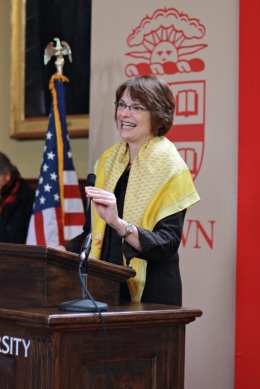 Providence, Rhode Island is a lovely city, but let's face it: the place can't hold a candle to New York. This fact has apparently not escaped the whip smart Christina Paxson. Ms. Paxson, who was selected as the next president of Brown University this spring and husband Ari Gabinet have purchased a condo at 88 Greenwich Street, according to city records.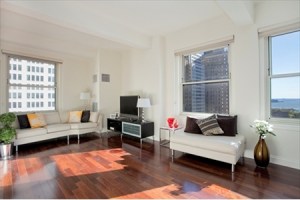 Ms. Paxson and Mr. Gabinet, an attorney at Oppenheimer Funds and the former district administrator of the Philadelphia office of the SEC, apparently grew fond of Manhattan when Ms. Paxon was serving as the dean of Princeton's Woodrow Wilson School. And why not celebrate a dream job with a two-bedroom, two-bath condo?
The couple bought the pied-a-terre for the $1.39 million ask from Angel and Mary Morales, who first listed the apartment in 2011 for $1.49 million. However, they had ample opportunity to be test out the sun-flooded, 13th-floor pad as renters before they bought. The listing was held by Kleier Residential brokers Isabel Solmonson and John Liss.
And while the new apartment might be relatively small, the Paxton Gabinets have plenty of space to spread out in Providence. Namely, the sprawling brick Georgian revival manse that comes with Brown's top post. Still, we're sure that they'll welcome the chance to get away from the heart of New England in mid-winter for weekends in the city. Unfortunately, the Greenwich Club's amenities—billiards lounge, library and full-service fitness center—will probably seem unimpressive to Ms. Paxson, deeply familiar as she is with the Ivy League life.
kvelsey@observer.com