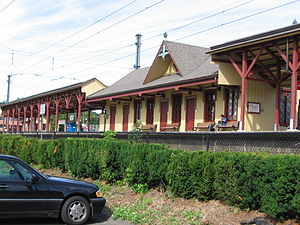 The New Canaan, Conn. believed to have shot and killed his wife on Friday before turning his weapon on himself was a former Wall Street banker previously employed at Bear Stearns, Lehman Brothers and Bank of America, according to reports.
James D. Owen, 48, had worked on mergers and acquisitions and mid-market financing for the telecommunications industry at The Bank Street Group, according to investigative reporter Teri Buhl, who first reported on Mr. Owens' Wall Street connections. Mr. Owen had also worked for Bear Stearns, Lehman Brothers and Banc of America Securities, according to Business Insider. The latter firm was an investment banking subsidiary to Bank of America.
Update (Sept. 25): According to Ms. Buhl, The Bank Street Group says that Mr. Owen was still employed at the firm at the time of his death. The Observer previously reported that Mr. Owen left the firm earlier this year.
New Canaan police responded to gunshots at Mr. Owen's Park Street condominium at around 2:40 p.m. Friday, according to the New Canaan Advertiser, and found Mr. Owen and his wife, Billie Faigout-Owen dead. Police suspect that Mr. Owen shot his wife, then shot himself, according to the paper.