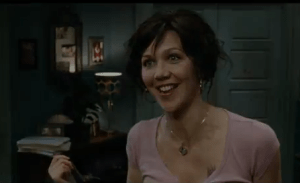 Watch out Maggie Gyllenhaal, in certain districts of New York City, local elected officials are not cool with you right now. The problem at hand? Her new movie, Won't Back Down, where she portrayed the role of frustrated public school parent using the local "parent trigger" law to take over the failing educational institution and turn it around. A group of public school advocates have already released a video entitled "Educating Maggie" outlining their beefs with the film, but now politicians are getting on Ms. Gyllenhaal's case as well.
"No matter what some Hollywood movie says, this 'Parent Trigger Law' is a dangerous ruse to undermine public education in the United States by systematically weakening the relationship between parents and schools, and our communities cannot and will not allow it to happen," Councilman James Sanders said, for example, in a press release put out by the group New Yorkers for Great Public Schools.
For his part, State Senator Gustavo Rivera took aim at the local education reform group StudentsFirstNY, which is strongly opposed by NYGPS and supports the movie.
"It is always of great concern to me when education reform is depicted in a way that seriously mischaracterizes the challenges our children, parents and teachers face," he said. "By using the film Won't Back Down as a fundraising tool to advance their political agenda, StudentsFirstNY has only served to muddy the waters of this complicated issue with tired cliches that depict teachers and their unions as the root of all our problems in education."
Piling on too were Assemblymen Nick Perry and Nelson Castro, Councilman Robert Jackson, and soon-to-be Assemblyman Walter Mosley. The provided quotes from those pols strenuously avoided mentioning Ms. Gyllenhaal's name, lest they upset her fans, but they were packed around an invitation for the actress to watch the "Educating Maggie" video and change her mind.
Reached for a response, StudentsFirstNY's director of communications, Chandra Hayslett, was not thrilled with the arguments presented above.
"Another week, another negative press release from the same front group. It's a shame, but not a surprise, that it stands against giving parents a real voice and choice," she said. "Parent empowerment laws — including the school conversion law that has long been on the books in New York — give parents power that they can use on behalf of their kids. It's sad that this group won't participate in a constructive conversation about providing better options for children in failing schools."
(Updated 3:40 p.m. with response from StudentsFirstNY)