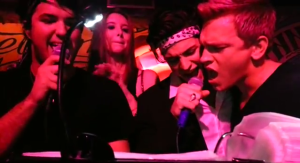 Friday, opening night at pop-up club Chez André at The Standard, East Village, found teenage dandy Peter Brant II and ex-porn star Nick Gruber, who was apparently taking a night off from writing a book and developing a TV show about his two-year relationship with Calvin Klein, on stage. The duo, joined at the mic by Andrew Warren and model Serena Marron, sang and mumbled their way through a live-band karaoke rendition of "Born to Be Wild." We have the video evidence. Arguably, it is the best version of the song ever performed. Arguably!
[youtube http://www.youtube.com/watch?v=RTeQ_ozz4GI&w=560&h=315]
Chez André, a pop-up hot spot ushered into existence by André Balazs and Andre Saraiva, was packed with the likes of Theophilus London, Jay McInerney, Angela Lindvall, Olivier Zahm and more gorgeous people than have been assembled in one place since, well, last Fashion Week.
Later, Glenn O'Brien,
GQ'
s Style Guy
, 
also took the stage, attempting his best Iggy Pop impression for a rousing "Lust for Life," demonstrating for the crowd just
How to Be a Man.
[youtube http://www.youtube.com/watch?v=PvHJoimZsT4&w=560&h=315]