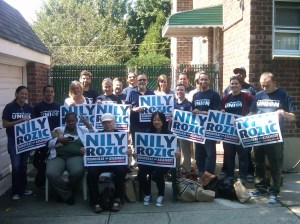 Nily Rozic, a former chief of staff for Manhattan Assemblyman Brian Kavanagh, looks like she picked up a win for Assemblyman Rory Lancman's former seat in northeastern Queens. Mr. Lancman, of course, unsuccessfully campaigned for congress earlier this year, ultimately losing the Democratic nomination to his colleague Grace Meng.
Although official results haven't completely come in yet, according to Queens Times Ledger reporter Phil Corso, Ms. Rozic's rival Jerry Iannece has already announced his time has "come and gone" and that  "politics not in the cards for me."  Mr. Corso's tweets echo what sources have told Politicker.
The Queens County Democratic Party had officially endorsed Mr. Iannece, and rolled out endorsement after endorsement on Mr. Iannece's behalf, as well as some unions like SEIU 1199. However, in what may be a replay of some 2009 City Council primaries, the Working Families Party, in addition to other labor powerhouses like the Hotel Trades Council, endorsed their own candidate and hustled.
The county's Democratic establishment also strongly backed Senator Toby Stavisky's reelection and Ron Kim's bid to replace Ms. Meng. Ms. Stavisky seems to be in a good position with the numbers that have come out so far, but it depends where the oustanding polling precincts stand.