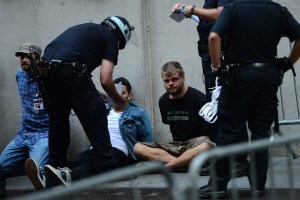 According to multiple people who have been involved with planning and executing Occupy Wall Street protests the New York City Police Department targeted key organizers for arrests in advance of Monday's Occupy anniversary demonstrations. These arrests may have prevented the movement from, for the first time, presenting a focused, single message at the center of the protests.
Though Occupy Wall Street has long resisted identifying any leadership, there are core members of the movement who have been instrumental in guiding its path thus far. One man, who Politicker has witnessed organizing several major Occupy Wall Street actions and coordinating with other political figures, said he was arrested over the weekend and prevented from participating in the Occupy birthday bash. The Occupy Wall Street organizer, who requested his name be withheld due to his legal situation, said his arrest prevented him from executing plans to focus Monday's demonstrations on campaign finance reform.
"I had thousands of signs printed with messaging on them…having to do with voter rights suppression and money out of politics," he told Politicker.
The organizer we spoke with said they decided to try and focus Monday's demonstrations on campaign finance reform, because it connects to many of the disparate concerns raised by occupiers throughout the past year.
"It is the issue everything relates to; the housing crisis, tax and income inequality, prison industrial complex, name an issue," he said. "As long as our electeds are taking corporate and private money, special interest money, it's going to be hard to get anything done in this country. Simply, we need to get money out of politics and stop suppressing people's right to vote, stop rigging the electoral process."
He also said he believed the Occupy Wall Street had become overly concentrated on physically taking over Zuccotti Park, which was the home of the movement's original protest encampment.
"This was never about occupying the park, it was about the issues and when people become a little more concerned about what plot of space they were going to get in the park and where their tents were going to go, I think a lot of people lost interest,"  said the organizer.
However, the Occupy organizer told us, if they had not been arrested, they believe Monday's protests would have been a chance for the movement to present a cohesive call for campaign finance reform.
"A large group of us were already coalesced and there were other groups that were going to participate in it with us. That message would have been visible," he said. "The visibility would have been overwhelming. You have 1,000 people holding up signs about voter suppression and money out of politics, people tend to notice and that's the narrative on the six o'clock news–all these people are down there and they have messaging. … Having those signs and having a large unified group of people holding them up would have said that this is an issue that were really concerned about and a lot of us are pushing this. It says that we're not just people occupying a park."
Along with his own arrest, the organizer also identified the arrests of several protesters with the activist group Code Pink as an effort to hurt the movement's leadership ahead of Monday's demonstrations. Jodie Evans, co-founder and co-director of Code Pink, told us at least five members of the group were arrested in conjunction with the Occupy Wall Street anniversary protests.
"They were swooping in and taking anyone who looked like they were leading an action," Ms. Evans said of the police.
According to the Occupy Wall Street organizer, though Code Pink is its own group, their work has been essential to the Occupy protests and they were involved in crucial planning for the anniversary events.
"There are many different groups and people that are part of this movement to bring about systemic change and I think Code Pink is definitely a vital piece of that," he said.
Ms. Evans told us that campaign finance reform was a main focus of Code Pink's involvement with Occupy Wall Street.
"Money out of politics is definitely one of our issues," said Ms. Evans.
Though they were unable to participate in Monday's protest, the Occupy Wall Street organizer we spoke with vowed to coordinate future actions that will be focused on campaign finance reform.
"I want people to be able to understand this issue, and I want to simplify the message and I want it to be something that isn't second fiddle to everything else," he said. "I don't know how to say this, but I'm overwhelmed and extremely reluctant to be a leader. I never wanted it. I never said I was one. There are no rules in this movement, things just happen."