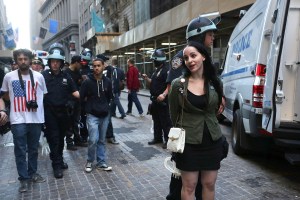 God how time flies. Just 365 days ago, we hadn't even heard of Occupy Wall Street, horizontal democracy, or a Statement of Autonomy. It was a heady time, when we remained blissfully ignorant of what the 99% referred to, and never thought to question who owned Zucotti Park.
This weekend, preparations began in earnest for OWS's one year anniversary. It's almost like the party didn't take a six month sabbatical where it dropped off the face of front page news. Luckily, it doesn't take much to make the media wax nostalgic for the days before the tents went up, and even though today's planned activities sound a lot like a peaceful version of that scene in The Dark Knight Rises, there is definitely excitement in the air. Below, we follow the OWS news of the day, as it happens. If you have any tips, photos or footage that you want seen, send them our way.

3:25 p.m.: Protesters and police clash in Zuccotti Park: OWS had their barricades taken away, and several seemingly handicapped Occupiers are arrested and loaded–along with their wheelchairs–into police vans. Behind the World Financial Center, a Debt March began but didn't draw a huge crowd.
1:12 p.m.: An arrested protester LiveStreams from his holding cell (audio only):
[protected-iframe id="40c4ad7a9dbec71717e5d3a435ec7286-35584880-35147716″ info="http://www.ustream.tv/embed/9687618″ width="608″ height="368″ frameborder="0″ style="border: 0px none transparent;" scrolling="no"]
Live video for mobile from Ustream
12:58 p.m.: The Wall Street Journal is claiming over 124 protestershave been arrested since this morning. Meanwhile, photos emerge as NYPD move to Zuccotti: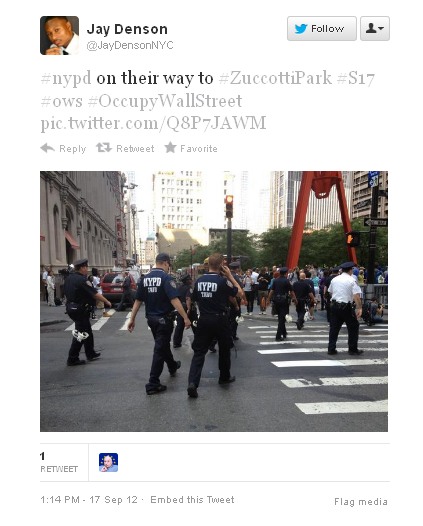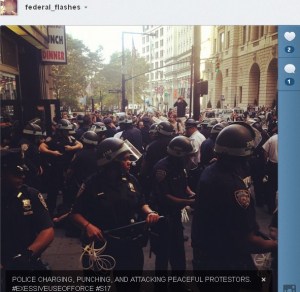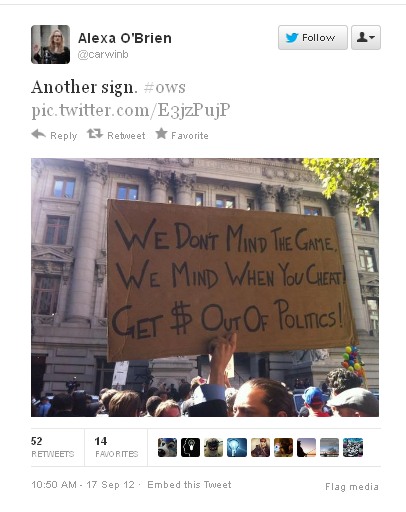 10:48 a.m.:
According to New York Magazine, at least 10 "leaders" of the leaderless movement were arrested yesterday during a tame reoccupation of Zuccotti Park. (This is interesting only so far as the fact that there are leaders, this time around.) While the music lasted well past bedtime on Sunday, several members worried that the NYPD was targeting key members to prevent today's "roving carnival" from happening, especially since the 18 arrested over the course of the night were picked "seemingly at random. Meanwhile…discussions! Planning committees, how we've missed you! Jimmy McMillian…what the hell were you doing there?
Not to mention a concert that included Tom Morello of Rage Against the Machine, as well as a Rosh Hashanah service.
Currently: The People's Wall protest at the Stock Exchange has been hindered by police presence, herding activists onto the sidewalk and making sure the several small factions planning to join up at the Stock Exchange never met up.
Guards were checking I.D.s at the entrance of the NYSE and employees were alerted to the beefed up security. Meaning that you aren't paranoid…the NYPD just got a copy of your schedule. It should look something like this:
MON. SEPT 17: RESISTANCE Financial District
On the one year anniversary, people from all walks of life are going to assemble in the streets of the Financial District in an outcry for economic justice. For on-the-ground updates please contact the OWS PR Team directly.

7am – The People's Wall, a non-violent civil disobedience at the Stock Exchange.* + 99 Revolutions: a swirl of mobile intersection occupations throughout the Financial District which will spring from the People's Wall Action. (Final tipsheet will be out Sunday regarding Monday's protest and meeting locations)
10am – Storm Wall Street, an ecologically themed convergence for a sustainable future (Bowling Green)
12-2pm – The 99% Return to Wall Street, this assembly will bring together Union workers and leadership, economics experts, faith, community members, students and occupiers to let our voices be heard once more at (Liberty Square/Zuccotti Park)
6-8pm – Popular Assembly (Foley Square)
As expected, Twitter has been the go-to point for breaking news: according to several eye-witness accounts, the police have been arresting protesters at random. (Of course, now that we know that tweeting about OWS might be used against you in a court of law, people may be exercising some restraint when reporting on the police. Hopefully not.) The livestream is also back, so you can follow along at home.
[protected-iframe id="f7905256857c5e0c5847805fecf795b7-35584880-35147716″ info="http://www.ustream.tv/embed/10589277″ width="608″ height="368″ frameborder="0″ style="border: 0px none transparent;" scrolling="no"]
Live video for mobile from Ustream