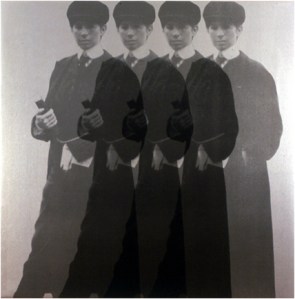 Early next year Paul Kasmin gallery will present a show of works by Deborah Kass that centers around her "Yentl" series, Warhol-inspired pieces that feature Barbra Streisand in her role from that film. The works were mostly made some 10 years ago, and Mr. Kasmin intends to show about 10 to 15 of them.
"With all this new interest in her work it's just been many years since any of these works been seen," Mr. Kasmin said, of why he decided to do the show.
The show marks the latest development in what is turning out to be a banner fall-winter season for the artist, with her work appearing at the Metropolitan Museum of Art's upcoming "Regarding Warhol" show, along with a major retrospective on her work at the Andy Warhol Museum in Pittsburgh, which opens in October.
All this in addition to a new book out in November on Rizzoli, which Mr. Kasmin had actually just received when we called.
"I just got it about 20 seconds ago and I have to say it looks fantastic," he said.