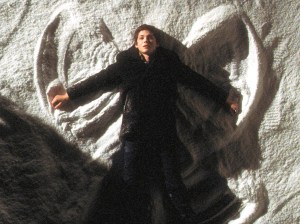 In a compilation of life's most painful and punishing experiences, I would put high school at the top of the list. The Perks of Being a Wallflower, adapted by writer-director Stephen Chbosky from his best-selling novel about freshman year at a Pittsburgh high school in 1991, is a structurally messy but emotionally effective coming of age movie that gets a lot of it right. High school is an ordeal only the fittest can survive.
Every inaugural freshman embarking on the first day of this new adventure suffers the same anxiety, frustration and fear of the unknown, but for gawky, 15-year-old misfit Charlie (Logan Lerman), the terror is especially acute. "Only 1,305 days left," is how he describes his first day at Mill Grove High School, surrounded by hostility. Charlie is a shy, brilliant, introverted loner with a history of mental illness who is still haunted by his best friend's suicide. Withdrawn and self-effacing, he rarely looks anyone in the eye and never raises his hand in class; he knows all the answers to the questions, but is too self-conscious to answer them. Encouraged by his English teacher (Paul Rudd), Charlie saves his intelligence for extra-credit book reports on The Great Gatsby and To Kill a Mockingbird. Despite a supportive father (Dylan McDermott), and an understanding shrink (Joan Cusack), his real grounding comes from new friends, a close-knit group of seniors who are older and more experienced, power-driven by an oddball duo of quirky siblings who march to a different drummer: sexually precocious Sam (Emma Watson, paroled at last from her ingenue prison as Hermione in the Harry Potter flicks) and her flamboyantly gay stepbrother Patrick (weirdo Ezra Miller, who played the schizophrenic teenage killer in the dreadful We Need To Talk About Kevin). "Welcome to the island of misfit toys," says Sam, his first friend, and Charlie falls instantly in love. But Sam likes slushy rock ballads like "Pearly Dewdrops Drop," and older guys who treat her like dirt. So does her brother, who wears drag in a parody of The Rocky Horror Picture Show (the only movie the students ever seem to watch) and is secretly having a torrid affair with the football team's closeted star quarterback. Under their guidance, Charlie innocently takes his first baby steps into the world of drugs and loses his virginity to an overweight Buddhist vamp who introduces him to Billie Holiday and foreign films. In the end, Charlie is the one who straightens out their lives.
Well-intentioned but lazy, The Perks of Being a Wallflower is an honest if familiar look at kids that doesn't cover a lot of fresh ground about teenage angst. Mr. Chbosky's teenagers discover Jack Kerouac and J. D. Salinger, smoke their first joints and fumble with their zippers just like we did when I was in school. In addition to the same coveted football letter jackets, pot brownies, pop quizzes on F. Scott Fitzgerald and a Top-40 DJ mix at prom, you can now add gay sex, homophobia, cafeteria violence and nervous breakdowns. Unfortunately, Mr. Chbosky's "techniques" wear thin fast—corny voiceovers, flashbacks and a "secret" from Charlie's past that arrives so late in the third act it seems purely artificial. The narrative meanders and the soundtrack is so drenched in bubblegum pop that it sounds like an iTunes library. (If I hear one more dated period piece by The Smiths, I'll scream.) On the plus side, Mr. Chbosky shows genuine affection for his characters, providing them with small, reflective moments as well as big, fervent outbursts, and with his cast, this is as it should be. Emma Watson's Sam has the same face as her old signature character Hermione, but her chopped-off Edie Sedgwick hair, cleavage and curves leave the moppet warlocks at Hogwarts in the dust. It is the remarkable Logan Lerman who negotiates his journey to Charlie's self-discovery with so much dignity and vulnerability that he steals every scene and carries the picture. As the young George Hamilton in My One and Only (2009), he dazzled. He's come a long way as an actor since then, if you don't count his misguided D'Artagnan in last year's crummy high-tech remake of The Three Musketeers, and he shows signs of a rock-solid future. He does a Herculean job of tempering the joy and elation of adolescence with the dark confusion of youth in transition that makes The Perks of Being a Wallflower ingratiating, if not memorable.
rreed@observer.com
THE PERKS OF BEING A WALLFLOWER
Running Time 103 minutes
Written and Directed by Stephen Chbosky
Starring Logan Lerman, Emma Watson and Ezra Miller
2.5/4