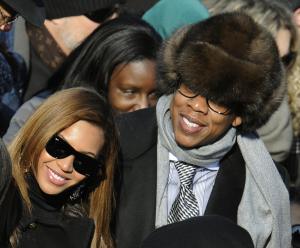 Hip-hop's biggest power couple, Jay-Z and Beyoncé, held a fundraiser for President Barack Obama tonight at Jay-Z's 40/40 Club in Manhattan. In his speech at the event, Mr. Obama discussed his daughters' love for the musicians and what he and Jay-Z have in common.
"Let me just begin by saying to Jay and Bey, thank you so much for your friendship. We are so grateful. Michelle and Malia and Sasha are mad at me because they are not here," Mr. Obama said. "That doesn't usually happen. Usually they're like, we're glad you're going–we don't need to go. But every time they get a chance to see these two they are thrilled, partly because they are just both so generous, particularly to my kids. And Malia and Sasha just love both of them."
Mr. Obama went on to explain that Beyoncé "couldn't be a better role model for our daughters because she carries herself with such class and poise." He then discussed the similarities between himself and Jay-Z.
"Jay-Z now knows what my life is like. We both have daughters, and our wives are more popular than we are. So we've got a little bond there. It's hard, but it's O.K.," said the President.
Following those opening remarks referencing his famous hosts, Mr. Obama launched into what was basically his standard stump speech contrasting his vision for the country with that of his rival in the presidential race, Mitt Romney. However, at one other point in his remarks, Mr. Obama noted that, like him, Beyoncé and Jay-Z came from humble beginnings.
"And the good thing about so many of us here–and I know I speak for Jay and Bey–is we remember what it's like not having anything, and we know people who were just as talented as us that didn't get the same break, the same chance. We remember some of our parents or grandparents who came here as immigrants and got a little bit of help along the way to go to that school or be able to start that first business," said Mr. Obama.
According to the press pool report filed by McClatchy's Anita Kumar, Beyoncé and Jay-Z "both said very little," but Beyoncé introduced the president prior to his speech, saying she and her husband "believe in his vision."
In addition to his event at the 40/40 Club tonight, Mr. Obama also appeared at a fundraiser at the Waldorf Astoria hotel and on The Late Show With Dave Letterman during his visit to New York City. The Republican National Committee responded by distributing a list to reporters of the "Top 10 Things Obama Should Be Doing Instead of Hobnobbing With Jay-Z, Beyonce and Letterman," which included, "Get An Intelligence Briefing," "Tell Americans How He's Going To Get Nearly 47 Million Americans Off Food Stamps" and "Meet With Israeli Prime Minister Benjamin Netanyahu."