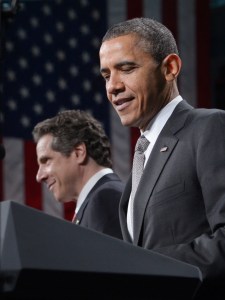 Earlier today, Governor Andrew Cuomo took a rare foray outside of the Empire State to pay his partisan dues at the Democratic National Convention. His speech, which he oddly did not deliver in the convention hall itself despite Mr. Cuomo's status as a large-state governor with astronomical approval ratings, indeed let his Democratic flag fly, blasting the Republican Party, Paul Ryan and the whole nine yards.
Both the local and national media, which have taken a strong interest in Mr. Cuomo as a top-tier contender for the White House after President Barack Obama leaves in 2016, understandably tended to frame his speech today in those terms. You can view a healthy sampling of the reviews below:
BuzzFeed: "Andrew Cuomo Acts Like A Candidate In Charlotte"
The typically careful governor of New York gives a rare partisan address to delegates. Now everyone thinks he's running for president.
Gannett: "Cuomo Takes National Stage To Knock Republicans in Washington"
Despite no major speaking role at the Democratic National Convention, Cuomo is viewed as a potential presidential candidate in 2016 and gave his address Thursday to a packed house added significance and national interest.
The New York Times: "After Avoiding Spotlight in Charlotte, Cuomo Delivers Rousing Convention-Style Speech"
In his sole public appearance at a national Democratic gathering in which he simultaneously avoided and stoked national attention, Gov. Andrew M. Cuomo on Thursday delivered a convention-style speech filled with tart-tongued denunciations of Republican economic policies as well as praise for New York as a progressive ideal for the country.

The governor, speaking at a breakfast sponsored by the New York State Democratic Committee, offered an unmistakable argument for his leadership as a new model of how Democrats can govern — on taxes, education and same-sex marriage — and struck many as presenting a preview of the case for his running for president in 2016.
Capital Tonight: "In Rare Partisan Speech, Cuomo Condemns National GOP"
The governor has kept a relatively low profile as rumors swirl that he is considering a run for president in 2016.

Cuomo is not speaking at the convention and has not appeared on TV as a major surrogate for the president.

But the governor's surrogacy seemed to begin publicly today with fiery language for the president.
Capital New York: "In a small setting, Cuomo delivers a big Democratic address"
At the New York delegation breakfast in Charlotte this morning, Governor Andrew Cuomo delivered the kind of full-throated, unapologetically partisan defense of Barack Obama that he's largely avoided since becoming governor two years ago.

"Let's thank President Barack Obama for what he's done for our state!" said Cuomo, in his introduction.

Cuomo's one-day-only appearance at the convention, along with his studious avoidance of anything overtly related to 2016, made his address at the delegation breakfast a bit of a special occasion. The result almost had the feel of a keynote speech, even though it was delivered shortly before noon, far from the convention floor. And it seemed designed in part to be a response to the idea that he's kept a careful distance from the Obama re-election campaign.
Associated Press: "Cuomo: White House race a 'gut check' for nation"
Cuomo has downplayed any interest in a possible 2016 White House bid but his rousing address before hundreds of New York Democratic activists was unlikely to tamp down the speculation.

His speech, interrupted multiple times by applause, included a sweeping rebuke of the budget plan offered by GOP running mate Paul Ryan, a firm defense of President Barack Obama's policies and an outline of his agenda in Albany. With a partisan tone, Cuomo painted Republicans as instrumental in pushing policies that led to the economic decline.
Politico: "Cuomo makes his DNC debut"
It was an unusually partisan address for Cuomo, who almost never gives speeches like this as governor and who has worked hard to avoid partisan attacks in his own state as his approval ratings have consistently been in the high 60 percent range. Despite the questions about his future and 2016, he is holding almost no public events — and in a mark of his status as he tries to avoid engaging, there was very little national media at the event, held many miles from downtown Charlotte.

…

And his voice got louder as he went on, practically shouting at points as he talked about Obama's efforts on issues important to the middle class, which he said parallel what he is doing in New York. He also got in a reference to the gay marriage bill that passed in his state last year, his signature achievement and one that his supporters believe will set him apart on the national stage.
Staten Island Advance: "Cuomo speech electrifies New York Democrats, amps up 2016 buzz"
But Staten Islanders at the event wished that Cuomo had given his remarks in the convention hall instead, with one saying that it sounded like a "prelude" to a 2016 Cuomo White House bid.

Speaking to delegates in a highly anticipated address, Cuomo, already being mentioned as a potential 2016 contender, defended how President Barack Obama had handled the economy.
 New York Daily News: "DNC 2012: Cuomo 2016, Previewed?"
Following his speech, charged-up New York Democrats called the speech a good preview of what a potential Cuomo 2016 presidential run might look like.

"He sounded like a candidate to me today, but there's a lot between 2016 and today, " said Rep. Eliot Engel (D-Bronx).

"Of course it was," said one state lawmaker. "Did you see all the balloons and the bunting and the sound system?"