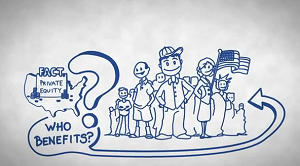 We occasionally wonder why more of the conversation about the outsized incomes earned by successful hedge fund and private equity managers doesn't touch on the clients footing the bill. Which is to say, before you complain about how much money managers make, it's worth remembering that institutional investors—pension funds, university endowments, etc.—pay managers to invest institutions' money.
Well, in case you didn't realize or somehow forgot who private equity firms work for, an industry lobbying group is here say they work for you: "The vast majority of the firms' returns go directly to the firms' investors," says the narrator of an animated web video published today by the Private Equity Growth Capital Council. "So when private equity succeeds, public school teachers in Michigan, police and firefighters in Colorado, nurses in Ohio and college students in North Carolina reap the benefits."
[youtube http://www.youtube.com/watch?v=dcYFYi6f0AA]
Of course, a good chunk of the criticisms that private equity managers face applies not to how much they make, but how they pay taxes. To which end, New York State Attorney General Eric Schneiderman is said to be investigating some buyout firms' practice of converting management fees into investment income in order to help managers delay or avoid paying taxes. (Law professor Victor Fleischer took an in-depth look at so-called fee waiver programs last week in The Times.)
Well, it turns out that a whistleblower complaint is at the heart of the attorney general's investigation, according to The Wall Street Journal, and:
At least two other whistleblower claims related to management-fee conversions have been filed with the Internal Revenue Service, which has the authority to pay whistleblowers up to 30% of proceeds collected in large cases.
Which, on the heels of former UBS banker Bradley Birkenfeld's announcement yesterday that he stands to collect $104 million for dropping a time on his former employers efforts to help U.S. citizens evade taxes, suggests there's another group that the work of private equity firms may soon benefit.