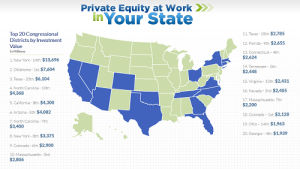 So much more fun than a whiteboard video! The Private Equity Capital Growth Council, the buyout industry lobbying group that spent the summer bestowing upon the Internets a series of animated explainers, released an interactive map that's pretty cool.
The map will tell you, for instance, that the New York State and Local Retirement System socked $14.9 billion of its $147.2 billion in investment dollars into private equity funds last year. You could have dug up that data on your own, but PECGC compiled the same data from the two biggest pension funds in each of the 50 state for which such data was available, and pulled together a handy ranking:
The California Public Employees' Retirement System invested more in private equity funds than any other public pension, unsurprising given the size Calpers; less expected, that the Washington State Investment Board was the third biggest pension player in the buyout sphere, investing $15.6 billion out of $62.2 billion in total funds in private equity. The California State Teachers Retirement System, meanwhile, was the only pension fund to rank in the top 10 for total private equity investments and best returns—earning 11.3 percent on $23 billion in PE investments last year.
Also fun to note: Last year, private equity firms invested $13.7 billion in New York's 14th Congressional district, which includes the east side of Manhattan and a few Queens neighborhoods—80 percent more than the next highest district.
We've reached out to a couple of sources to inquire whether that total resulted from a handful of large deals, or just generally greater volume. In the meantime, we suppose Carolyn Maloney, the Democrat who represents the district, won't have to ask anyone why all this activity was taking place somewhere else.