Punch!, a Spy–inspired iPad "appazine" that paired long-form journalism with short comedy segments and interactive games, has scrapped its editorial content to focus entirely on an authoring tool for apps.
With New York Observer alum Jim Windolf at the helm and featuring contributions from George Gurley and Mark Ames, Punch! put out three issues before announcing that it was going on hiatus on August 14.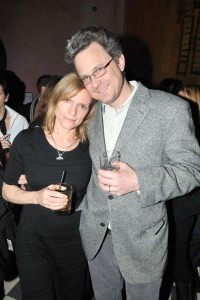 Now Punch! will be focusing entirely on its new app-developing platform, described by its company CEO as a "Blogger" for app makers, while putting its editorial plans on ice for the foreseeable future.
"Somewhere down the road, it became clear we had two businesses in our hands," David Bennahum, CEO of Punch! Media, told The Observer earlier this evening.  "We had potentially a media-business producing the Punch!  products, which you know, then we had the technology business giving other companies this very powerful tool that we developed ourselves."
The initial plan was to have the custom-app division fund the editorial content. After raising $2.25 million in seed funding from venture capital funds like Betaworks and Techstars, Punch! seemed poised to publish a year's worth of issues.
But after just three editions, the magazine is on "hiatus" and its editorial team, which included Brooke Siegel (formerly of Daily Candy), is no longer with the company. 

"We had to wind it all down," said Mr. Bennahum. "We couldn't do two things at the same time."
"As we kind of look at our options, knowing we really couldn't do both, it became clear that the technology business was just a very large and exciting opportunity relative to the original business," said Mr. Bennahum. "Doing the Punch! the magazine app well requires complete focus."
With the magazine scrapped (for now), Mr. Windolf said he is no longer with Punch! 
"If he [Mr. Bennahum] restarts the magazine, I'd like to do it, which might happen," he added. (Disclosure: Daniel Edward Rosen was commissioned by Mr. Windolf in June to write a story for Punch!).
The news came as a sudden and sad twist to a publication that just months ago was poised to reinvigorate the magazine medium with new interactive content. Videos like "32 and Pregnant" and "Tiny Pundits" (featuring The National Memo Editor-in-Chief Joe Conason and three precocious and pugnacious kids) were picked up by The Daily Mail, The Atlantic Wire and Politico and lauded as spot-on spoofs.
"We did some good things, got a lot of attention for the few issues I put out as editor," said Mr. Windolf. "I was especially happy with the videos made for Punch! by young director Chioke Nassor, a huge talent and great guy."
"Also nice magazine-style pieces by Mark Ames (on Romney's Mormon history) and George Gurley (on sad-sack character actor Fred Stoller) and a good essay on viral culture before the internet by Kliph Nesteroff ([who] writes for WFMU's Beware the Blog). So it was starting to come together, I think."
Mr. Windolf has spent the past month working on Fairchild Fashion Media's revival of M Magazine, edited by former Observer editor in chief (and Windolf muse) Peter Kaplan. M will be hitting newsstands on September 24.
"It looks incredible," said Mr. Windolf. "Kaplan put a lot of his tricks in there. It's beautiful; I hope it's a hit."
Speaking from the Democratic National Convention in Charlotte, N.C., Mr. Bennahum would not rule out a return of future issues of Punch! the magazine.
Despite rumors that Punch! had run out of money, Mr. Bennahum insisted that the company's financing is "secure."
"We don't have plans to announce another round of financing at this stage," he added.
drosen@observer.com