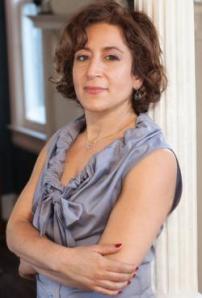 "Last night we did a version of this where we walked down the aisle!" said Atlantic senior editor Hanna Rosin at the beginning of a debate last Wednesday at the Maritime Hotel, on occasion of the publication of her book, The End of Men. "It was like our wedding!"
She had just come onstage along with an unlikely interlocutor: her husband David Plotz, the editor of Slate. The couple were conducting a road show of sorts to debate whether or not the male gender was less nimble in the current economy, they appeared together in Washington the night before and were scheduled to appear on Today together on Thursday. The sell—woman declares male gender dead (or, at least, her book jacket does), and here's her loving husband!—was irresistible, and the pair played it up at the Maritime reading. Mr. Plotz referred to himself, early in the evening, as "Mr. Rosin," and instructed his debate partner, "You need to stay on mic, sweetie. Just hold it! It's very simple."
For her part, Ms. Rosin bristled good-naturedly at a tough question, saying "It's weird! Because you're my husband! And you're Charlie Rose-ing me!"
Not every viewer was entranced, however. We noticed New York Times Magazine editor Hugo Lindgren, who excerpted The End of Men for a recent, characteristically splashy cover spread in his publication. The editor spent much of the speech whispering loudly to one male and one female friend.
"Do you like my boots?" Mr. Lindgren asked his male friend, pulling up the leg of his trousers to peacock.
"Yeah! Do you like mine?" asked his male friend, as Ms. Rosin spoke.
The debate was won by Ms. Rosin, but by then Mr. Lindgren was already gone.