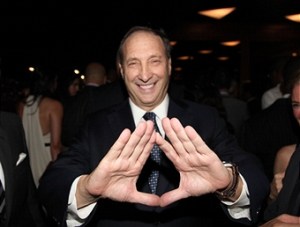 So Barclays's Bruce Ratner told Charles Bagli today. "We've kept every single promise we've ever made," he insists. So be it.  In typical fashion, the Times scribe cut the Brooklyn developer down to size without so much as uttering a nasty word against him, as he has done to so many big builders and outsized egos over the years.
We could count the ways in which Mr. Ratner has broken his promises over the years, on jobs, housing, subsidies, timetables, architects … the list goes on and on, but we'll leave that up to Norman Oder. After all, Mr. Ratner qualifies his promises in the conditional, adding, "We've built the arena. They said we'd never build it. And I'm going to build the affordable housing." Fair enough.
Better still, let's let Mr. Bagli himself count the ways in which Mr. Ratner has snookered the city over the years. His writing is as understated as Mr. Ratner's work is bombastic. While the story contains almost no news, it so beautifully and articulately chronicles what transpired at the intersection of Atlantic and Flatbush Avenues, it is a wonder the project was actually realized. And yet it also makes clear there was absolutely no other outcome possible. This is Bruce Ratner, after all.
To wit, one small revelation that encapsulates much of the story comes to light:
His willingness to change plans —abandoning an expensive Frank Gehry design and building a smaller railyard—solidified his reputation for promising anything to get a deal, only to renegotiate relentlessly for more favorable terms. In separate encounters in meetings over the Atlantic Yards project, Mr. Ratner loudly berated Rafael E. Cestero, then the housing commissioner, and Seth W. Pinsky, president of the city's Economic Development Corporation, after not getting his way.
These are ostensibly two of Mr. Ratner's allies on the project, and two of the toughest guys in city government. And there he stood. No wonder he is still standing after "the most difficult, bruising development project I've done, or could even imagine doing," as Mr. Ratner puts it to Mr. Bagli.