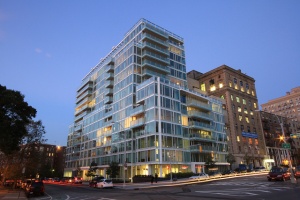 Oscar Wilde wrote that we are all in the gutter, but some of us are looking at the stars. This seems darkly apt for the unfortunate residents of Richard Meier's On Prospect Park, who are deeply gutter-bound as they gaze at the starchitect's beautiful glass walls. Or so a new lawsuit filed by the condo board alleges.
The lawsuit is seeking $200 million from the developers of the project and those involved in its early management, reports the New York Post. Among the most egregious problems at the building is that after almost four years of occupancy, On Prospect Park still lacks a Certificate of Occupancy and the temporary certificate lapsed last month. This basically makes it impossible for owners to sell their units because banks won't provide financing to a building that lacks a certificate of occupancy. Good thing that Brown Harris Stevens finished selling the building out in July! Now all the residents will be left holding the bag rather than developer SDS Procida Development Group, controlled by Mario Procida.
"The renewal of the Temporary Certificate of Occupancy is in process," Mr. Procida told the Post. "It has been open longer than we've liked, and we're in the process of trying to go to a permanent C of O."
But that's not the only thing that the residents of the beautiful, glass-walled building are unhappy about.They also allege that the glass curtain wall that let all the surrounding buildings to laugh at the building's many unsold units during the housing market crash is leaky and the roof is "unsalvageable," among other construction defects. Also, they claim that amenities remain unfinished and funds have been misappropriated.
Those named in the lawsuit deny misappropriate of funds and say they're working on/looking into the construction problems. In the meantime, owners will remain in limbo—if they can't sell, they'll have to stay, whether they like it or not. At least they can still stare out their leaky glass curtain at Prospect Park?
kvelsey@observer.com