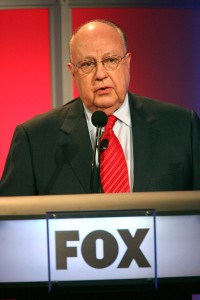 Fox News chief Roger Ailes is trying to get that paper. Elsewhere in News Corp, two locals go all Benedict Arnold on a certain tablet newspaper and a certain tabloid newspaper. What's it like to get an employee evaluation at Reuters? How's that whole Media-and-Race thing going? All that and more in your Thursday Evening Media Briefs.
Roger, Dodger: Fox News chief Roger Ailes is renegotiating his contract according to Fox News' least-favorite journalist, New York contributor Gabriel Sherman (who's working on a book about the network). Some things you probably didn't know:
1. Ailes' personal lawyer appears as a Fox News contributor. Synergy, now!
2. If he were to leave Fox News, Ailes possibly wants to buy the Cleveland Indians, thus fulfilling his destiny as the real-life basis for the villainous owner in the next Major League movie.
And onto the numbers we go (emphasis ours):
One source familiar with the talks speculated that, given Fox's record profits, Ailes could ask for a mega deal, worth more than $30 million per year. But another source close to Ailes explained that, for Ailes, signing a new deal is not only about the money. Ailes has to figure out what he wants to do next. But money is surely a consideration: Ailes is a guy who likes to keep score. And at News Corp., he's the third-highest-paid executive, behind Rupert Murdoch and COO Chase Carey. This week, it was announced Ailes made $21.1 million last year. With Fox News on track to earn $1 billion in profit, it's certain Ailes would want the biggest contract of his life.
Sherman makes an excellent point that—in light of News Corp's restructuring in the wake of the phone-hacking scandal—Fox News is a more crucial piece of the Fox pie now more than ever. Know this: Whatever Ailes' deal ends up being, it's likely going to say far more about how Rupert Murdoch intends leaving this planet than what Roger Ailes has done on it. Sherman's wonderfully juicy report is worth clicking over for the read. Do it. [Daily Intel]
The Murdoch-to-Mort Refugee Trail: Capital New York reports that the thoroughfare of employment between News Corp and the New York Daily News remains trafficked, as always. This week, it's the copy chief at The Daily—Jon Blackwell —who's off to the Daily News as a deputy managing editor for production. Apparently, he was with News Corp for over ten years, much of which was spent on the copy desk at the New York Post. Meanwhile, Don Kaplan—on the Metro desk at the Post, and previously their TV writer—is also off to the Daily News as their new TV writer. [Capital New York]
Media Employment and Race: The More Things Change, Pt. XXVIII. The Atlantic's Ta -Nehisi Coates pens a wonderful thinker on the diversity problem in the media business, which yes, absolutely still exists (to wit: look around you). As he put it:
Magazines have long had a diversity problem, and that diversity problem is inscribed in their DNA. You can add on to this the fact that the traditional way of breaking into magazines involve ways utterly inaccessible to most black people. The unpaid internship was long seen as a right of passage. Very few Americans can afford such a luxury, and fewer still African-Americans can afford it.
To editorialize: Those worried about compromising the quality or meritocracy that ostensibly is our media in favor of out-and-out affirmative action clearly know nothing about the quality or meritocracy of our media as it exists right now. Having a diverse newsroom is crucial to having a diverse set of purviews, which yields a wider net of voices, but more importantly, listeners. Anyone who disagrees likely has some undeserved degree of power they're concerned about preserving. And they should be raked by Reuters' pronoun comb (see below) until they're no longer creating our media. [
The Atlantic
]
What's It Like To Be Probed/Evaluated For Your Worth at Reuters? Just let this marinate for a moment:
One correspondent was told that he doesn't use enough pronouns in his writing when they couldn't find anything else wrong with him.
The only thing less dignified than being taken out back and Old Yeller-ed because you're old is having someone come up with soft euphemisms, and past that, boldfaced lies about why they're doing it. [Jim Romenesko]  
The Boys, On The Wrong Bus. Today, in amusing corrections:
An earlier version of this story suggested an earlier report had mentioned a bus tour, which it did not.
[Buzzfeed]
The Boys On The Bender: Resident MSNBC delicate flower Chris Hayes needs sleep. At midnight. [@chrislhayes]
License to Jill: New York Times executive editor Jill Abramson —the first woman in the paper's history to have the job—made some Vanity Fair power list, which is great, except somehow she dropped a ranking and is less important than Jay-Z and Beyonce (who the Times uses in their ads). This reporter remains mystified at the fact that Graydon Carter once had something to do with Spy and also wide-eyed at his reverence towards celebrities, which—we've been here long enough, we shouldn't be surprised—we're slightly ashamed of. [Vanity Fair]
WaPo Wha-Wha? If you can explain what's happening in this Washington Post filing—or at the Washington Post, period—in three sentences or less, The Observer will send you a pastry* of your choosing. [Washington Post]
[*Pastry subject to avaliblity.]
– – –
That's it for tonight. Give us your shady, your sketchy, your salacious media gossip. Or tips on making a paper crane army with very little effort. We're still after that one.
fkamer@observer.com | @weareyourfek