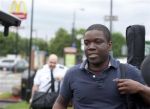 It's hard to imagine a more terrifying prospect than a 30-year-old trader risking billions in unauthorized speculative bets at that the same time his own personal finances spiraled out of control. Which is of course what prosecutors say happened in the case of Kweku Adoboli, the former UBS trader who squandered billions when unhedged positions turned against him. Indeed, as Mr. Adoboli was risking as much as $12 billion for UBS, he was losing hundreds of thousands of dollars in personal trading accounts that violated the firms rules.
Bloomberg lays it out the gory details:
Adoboli's personal bank accounts were mostly overdrawn and he had borrowed money from various short-term lenders, [prosecutor Esther Schutzer-Weissmann] said. At UBS, his pay rose from 40,500 pounds ($65,900) in 2005 to 360,000 pounds in 2010, including bonus, another prosecutor said at the opening day of his trial last week. … By October 2010, Adoboli's monthly salary payments into his primary checking account were 6,179.69 pounds. Turnover on the account in the 12 months leading up to September last year was 233,000 pounds. On the day he was arrested on Sept. 15 last year, the account was overdrawn by 3,594.70 pounds, according to the agreed facts. He had borrowed from at least eight short-term lenders.
Meanwhile, Mr. Kweku was creating fake accounts to shade his unauthorized bets from superiors at the bank, and while the trades would eventually show profit, they turned violently against him at the onset of the European sovereign debt crisis. By the time he owned up to his $2.3 billion trading loss, prosecutors said, Mr. Adoboli had overdrawn three of his four bank accounts, and had less than 4 pounds in the last.