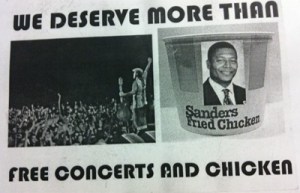 Shirley Huntley's campaign apparently thinks her constituents need more than fried chicken from her opponent, James Sanders. It's not the first racially-tinted ad on her behalf.
Naomi Rivera has other attacks on Mark Gjonaj.
Manhattan Media is for sale.
Stu Loeser will help Shelly Silver out with that whole Vito Lopez situation.
Jimmy McMillan will announce his NYC mayoral run on the evening of Thursday's primary elections.
Juan Reyes sent campaign literature from Ireland and referenced Lord Voldemort in another piece.
George Pataki blasted a book he only read the jacket cover of.
Ditmas Park Corner took a look at Rodneyse Bichotte and Rhoda Jacobs.
The anti-gay marriage Mark Grisanti attacks roll on.
The co-Chair of the State Democratic Party called on Republicans to denounce a particularly ridiculous one.
Dov Hikind was not pleased with Moshe Tischler's attack on him over the Jacob Ostreicher case, saying, "These kids should really grow up first and learn how to respect a fellow Jew or any fellow human being whose life is in danger, before they want to run a campaign, you just don't play games with a human life."
Tischler said Hikind's response involved plenty of "chutzpah."
Speaking of chutzpah, Paul Ryan is up with television ads urging voters in his Wisconsin House district to reelect him for another term that he hopes not to serve.
Mitt Romney is running more television ads in Wisconsin as well.
President Obama is trying to "Kerry-ize" Romney on national security issues.
Bain is no longer the negative against Romney it once was.
The economy is not quite as bad for Obama as you might think.
Cory Booker seems set to challenge Chris Christie.
What's behind Obama's fundraising surge?