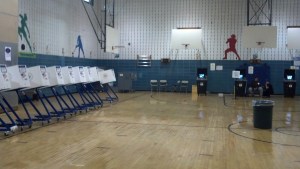 Turnout was light at Politicker's polling site, as you can see from the image on the left, taking during the evening rush. The one race on the ballot was for Civil Court where David Greenfield and Dov Hikind are fully behind rival candidates. We only received campaign literature from Greenfield's candidate, Schlomo Mostofsky.
Naomi Rivera received pretty much the worst endorsement ever from Bob Kappstatter.
Her challenger, Mark Gjonaj, said he feels like "a 900-pound gorilla — I feel the love."
Some parts of Shirley Huntley's district showed higher-than-expected turnout, but there was still plenty of voter confusion. Her opponent, James Sanders, speculated that she might not even be planning a victory party.
Candidates in Boro Park primaries were busy hustling up votes.
Aaron Short was among the reporters waiting for Vito Lopez to vote for his endorsed State Senate candidate Martin Dilan. After voting at the same location, Short attempted to hang around, only to have the NYPD shut down his efforts, telling him, ""You came, you voted, and now it's time for you to take a walk."
Dilan accused his opponent, Jason Otaño, of being the puppet instead of the other way around. He also said Lopez shouldn't be judge until his due process has been completed.
Lopez's office door has a conspicuous spot where his chairmanship of the Assembly Housing Committee once was displayed.
Rep. José Serrano tried his hand at stand-up comedy:
"There was a tense moment at the convention. The Florida delegation threatened to walk out when they heard the Castro brothers were speaking."
Reid Pillifant looked at why Kirsten Gillibrand is no longer considered a vulnerable incumbent:
Team Gillibrand's concerted decision from the very beginning to present her as a spokeswoman for young, working women has been key to her success in building a statewide and national profile, keeping out of Chuck Schumer's way while filling a vacuum for such voices. The timing turns out to have been nearly ideal, too: Gillibrand was setting out to make herself heard just as a new, Tea Party-infused Republican Congress was resolving to re-fight old battles on issues like reproductive rights with renewed vigor. The idea that the G.O.P. was actively waging a "war on women," as Gillibrand asserted early on, was not a hard one for her to market.
Jerry Nadler wasn't impressed with Mitt Romney's "half-cooked" Libya comments.
Beyonce Knowles and Jay-Z will help President Obama raise campaign cash in New York.
Obama wished Jewish Americans a L'shanah tovah.
Romney's latest ad takes Obama to task on China:
[youtube http://www.youtube.com/watch?v=58pq658byzI&w=560&h=315%5D