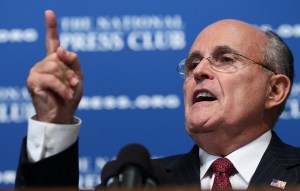 Later this afternoon, former Mayor Rudy Giuliani will be holding a press conference on the steps of City Hall to specifically condemn a controversial campaign advertisement sent out in the Republican primary for a Queens State Senate seat.
The mailer, produced by attorney Juan Reyes's campaign, accused his GOP rival, Councilman Eric Ulrich, of being hypocritical on gay marriage because, among other things, he has dinner with an openly gay colleague on the City Council and has hired gay staffers in his government office. New York State, of course, has a statute that would forbid this type of discrimination in hiring.
In addition to criticizing Mr. Reyes and his campaign literature, Mr. Giuliani will be officially endorsing Mr. Ulrich to boot. The press release announcing today's event noted that Mr. Reyes often touts his legal work in the Giuliani administration when making his campaign pitch to voters.
The mailer is the latest in a series of increasingly creative and provocative arguments coming out of the Reyes campaign in recent days. Notably, he's accused Mr. Ulrich of supporting an anti-democratic, Stalinist mindset by being the favored candidate of the Senate Republican establishment, and compared one of Mr. Ulrich's controversial advisers to Lord Voldemort from the Harry Potter franchise.
Mr. Reyes has also sent voters mailers from Ireland, as well as a DVD tracing his heritage, to stress that he's not strictly of Latino descent.
The winner of tomorrow's Republican primary will face off against Democratic incumbent Joe Addabbo. Senate Republicans redrew the district in question to contain  many more conservative voters than it had previously, making it one of the top pickup opportunities for the GOP in November.