Category #3: Rage Against the Machine
---
While Ms. Rivera's race features a classic establishment vs. insurgent dynamic, it's hardly the only one. Candidates across every borough except Staten Island are running against the folks who are currently in charge. Nowhere is this dynamic more pronounced than Brooklyn, where scandal-scarred Kings County Democratic boss Vito Lopez is still ostensibly in control and has yet to formally relinquish power. If anti-County candidates succeed, it will weaken the organizations' ability to convince mayoral contenders and other candidates they are still top dogs in this city.
District Leader Lincoln Restler is considered a rising star in Democratic politics, but before he can continue rising, he's going to have to win a tough reelection battle. Mr. Restler, a prominent critic of Mr. Lopez, would be cruising to reelection but for the fact his opponent, Chris Olechowski, is destined to receive the majority of the ballots in vote-heavy Hasidic Williamsburg. It seems like all the winds are blowing in Mr. Restler's favor, but given the bloc of votes against him, this will be a race that plenty of political observers will be following Thursday night.
Senator Martin Dilan may or may not be vulnerable, but given his close alliance with Mr. Lopez and the fact that his senate district overlaps with Mr. Lopez's assembly seat, his reelection race will serve as a test for the machine in Brooklyn's new political world. While Mr. Dilan would appear to have the edge, attorney Jason Otaño is mounting a vigorous campaign. If Mr. Otaño can make a strong showing, he could be a strong candidate in the future, at the very least.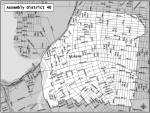 Open Seat to replace outgoing Assemblywoman Grace Meng: A crowded field of candidates is vying to replace Ms. Meng–who left the her diverse seat based in Asian-majority Flushing to pursue a congressional campaign. The County's Democratic Party has backed Ron Kim, a former government aide and political operative, but his electoral prospects are far from clear. Ms. Meng has stayed out of the race and a number of other hopefuls, notably former City Council candidate Yen Chou, are in Mr. Kim's way. The other entrants in this unpredictable race are; Ethel Chen, Myungsuk Lee and Martha Flores-Vasquez.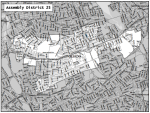 Open seat to replace outgoing Assemblyman Rory Lancman: Mr. Lancman lost to Ms. Meng in her congressional race's Democratic primary and isn't pursuing reelection. His seat, like Ms. Meng's, is an Asian-majority district in northeastern Queens, but the field couldn't be more different as it features just two non-Asian candidates: community board chairman Jerry Iannece and former assembly chief of staff Nily Rozic. Queens Democrats are pushing hard for Mr. Iannece, and he would seem to be favored as a result. However, Ms. Rozic has picked up a number of notable endorsements, including The New York Times and various unions, creating a genuine horse race between the two.
State Senator Toby Ann Stavisky, who's also running for reelection in a Queens district that has been reconfigured to be Asian-majority, shouldn't really be that vulnerable without any major blunders in office and a reliably Democratic voting record. However, she only won 45 percent of the vote  in 2010 against two challengers. With a district that now includes new areas, she's facing a rematch against one of her 2010 foes, John Messer. Mr. Messer, a businessman and attorney, has his placed his personal wealth in the campaign too, to the tune of $500,000. Ms. Stavisky, with close ties to her senate colleagues and Queens County, has been doing plenty of her own fundraising and running an aggressive campaign, however.

Open seat to replace outgoing Assemblyman Hakeem Jeffries: Mr. Jeffries is on his way to become Brooklyn's next congressman and he's leaving a vacant Fort Greene and Clinton Hill-based district behind him. Three contenders are hoping to replace him; Walter Mosley, Ola Alabi and Martine Guerrier. Mr. Mosley has the support of Mr. Jeffries, who has a strong base in the district, but Ms. Alabi has been racking up endorsements and doesn't appear to be someone who can be easily counted out. Ms. Guerrier recently earned the endorsement of The Times and could potentially make an electoral mark of her own come Election Day.

Open seat: Pretty much everyone and their mother has endorsed community board chairman Brad Hoylman to replace retiring Senator Tom Duane in his Midtown-based district, but businessman Tommy Greco is hoping he can make a dent with the help of the storied McManus Club. It wold be a pretty surprising upset for Mr. Greco to pull off a victory, however.
.
.