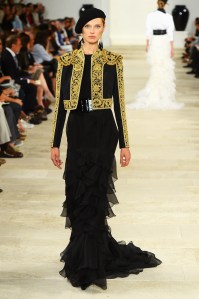 There is something organized and memorable about the last day of fashion week. Despite the grueling pace, late nights, early mornings and simply divine personalities we endure, there is an orderly sense of energy at the Ralph Lauren and Calvin Klein Collection shows. Publicists are graceful and polite, photo check-in is straightforward, seating disasters are delicately avoided and celebs are accessible, or, if not, polite about it.
Such was the case yesterday morning in West Soho when Mr. Lauren held his 80th runway presentation. His front row of stars dressed in his premium line included Jessica Alba, Olivia Wilde and most of the members of the Ralph Lauren Royal Family.
For spring 2013, Mr. Lauren progressed from something South American to ornate looks that were undeniably Catalan and Castilian, with tomato suede jackets, amethyst silk marocaine trousers, cotton ruffle shirting in white and beautiful scarlet dresses. There were black calf woven totes and hats. The styling seemed a bit overwrought, but the majority of this overload was eliminated when the evening wear flowed in.
Incredible brocade and beaded boleros influenced by los toreros of Spain, black double-faced wool jackets and dresses, a stunning, full-length beaded tulle skirt, and scarlet dresses with embroidery and beading. It was wearable and eternally elegant.
Once we had caught our breath from all that beauty, The Observer beelined it to U.S. swimmer Ryan Lochte.
"You've been to quite a lot of fashion shows and events this week, what are some of your highlights?" The Observer wanted to know.
"You know what? This right here. I love dressing in Ralph Lauren. It's just amazing, it fits perfect," replied Mr. Lochte.
Yes, yes we all love a wardrobe chock full of Ralph Lauren, Mr. Lochte, we're wearing some ourselves for god's sake! Nevertheless, Mr. Lochte refused to move off-script despite our uninterested posture and facial expresses.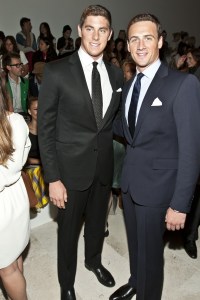 "No other better way to end fashion week with this show," he continued in his monotone jock voice.
Moving on, we asked the decorated Olympic swimmer if he planned to carry the party on to London, Milan or Paris. He commented that his favorite event was the Us Weekly party.
"Have you got the Fashion Week fever?" we asked. " Will you be going to shows in Paris?"
"You know what? If they asked me to, I'd be more than happy to. I'm getting back into the water next week to train."
"How has your life changed or your daily regimen after the stardom?" The Observer questioned.
"No it really hasn't, 'cuz I always have time to find the swimming and workout and change. Nothing has really changed except going to shows all the time," he huffed, as if it were a chore.
"What would you change about Fashion Week?" we wanted to know, catering to his runway fatigue.
"That there are so many opportunities to see great designers that you can't really go to everything. You really have to pick and choose."
Mr. Lochte's all-American sizzle and brawny physique, while a brilliant match for the Ralph Lauren brand, didn't quite light our fire. Drowning in his pool of mundanity, we elected to approach someone a bit more engaging; we headed toward Vogue's André Leon Talley, who lingered long after Anna Wintour, Grace Codington, Hamish Bowles, etc. had slithered for the exit of Skylight Studios.
"You looked entranced during the show; what's so intriguing about him still, even after all these years?" we asked.
"He is a master! This was a tour de force. This show was a virtuoso tour de force," proclaimed the extravagant editor, replete in his muumuu and couture platinum/gold chain necklace with hanging bone horn. "You can take Spain and you can absolutely sink the theme. The theme never sunk into a disaster because of the details and the workmanship."
Jackpot! Mr. Lochte had sunk our ship, but ATL was keeping us afloat!
"The attitude was modern, but the romance was Spain. But just a hint of it.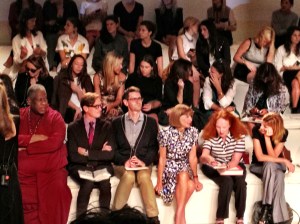 "Mr. Lauren is not saying you have to go out of the house in a dress like that. But he's saying you have to [have a] dash of romanticism in your wardrobe. You have to have that new shoe that looks so marvelous with raffia. Or you just might want to have that perfect double-breasted suit in white."
Mr. Leon Talley spoke the truth about Mr. Lauren's heightened excellence in design, construction and materials. "For me it was a couture show. It was like an haute couture show in New York, which is rare."
Truth be told, we'll trust ATL for the Fashion Week critique and commentary and keep Mr. Lochte safely at bay underwater.