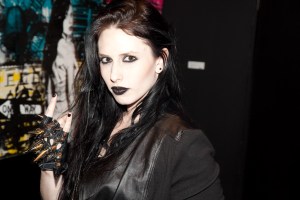 Social Life, a magazine that bills itself as "the Luxury Magazine for the Hamptons," celebrated its September issue last night at Satori, the swanky lobby bar at The Sanctuary Hotel. The magazine cover featured goth goddess Madame Mayhem posing sulkily in a black ball gown accessorized with her own spiked choker, gloves and combat boots.
Ms. Mayhem, who seemed to be the focus of the evening rather than the new issue, wore her signature goth couture. An edgy exterior, yes, but her pale porcelain skin and doe eyes suggested a softer side; let's not forget that this rocker originally trained in musical theater and opera. Her debut single, "Save Me," will be released on iTunes on Oct. 2; it was blasting from the surround-sound system, the lyrics were projected in the video onto a wall.
Just a short stroll from the tourists gawking at the Naked Cowboy in Times Square, the hideaway in the heart of the Theater District attracted a different crowd. Fluorescent purple lighting shone on an assortment of socialites; old suits, young hipsters, designers and musicians, it was an eclectic mix of the city's creatives. The atmosphere, like the attendees, was laid back yet glamorous, grungy yet opulent—with just a hint of punk.
The fusion of luxury magazine and grunge princess may have been unexpected—a bit like seeing Johnny Rotten at the Maidstone Club—but nobody was complaining.
Although the content of Social Life is directed at the high net-worth-individual who summers on the East End of Long Island, publisher Justin Mitchell said that he liked to play with the cover story.  "We like to mix things up a little," he said. Mr. Mitchell rattled off a list of the magazine's music-themed summer covers, "with an icon such as L.A. Reid on one and the Jonas Brothers, a younger demographic, on the next."
Mixing things up all by himself was Mr. Hudson. The prolific producer was dressed to impress, from beret atop head to red patent Doc Martens on feet, and in between bright red pants, red-and-blue pin-stripe blazer, red-hearted tie and burgundy glasses—he was a walking work of art. His multicolored beard, too, was a marvel. "They used to call me weird beard," said Mr. Hudson, recalling the three years he spent as a judge on British version of The X Factor.
Mr. Hudson praised Mayhem's work ethic: "It's different to that of anyone I've ever worked with before." Impressive, considering that "anyone" includes the likes of Cher, Ringo Starr, Ozzy Osbourne and Aerosmith—for whom he produced the Grammy Award winning hit "Livin' on the Edge." Mr. Hudson went on, "In rock and roll, a work ethic like hers usually doesn't exist … usually these rockers are in bed until 2 p.m."
Mayhem has been on a roll this summer at a slew of North Fork social events. It was at the Southampton Hospital benefit that designer Wesley Nault first spotted her. "She stood out to me in the crowd," Mr. Nault said. "I had to find out who she was." Luckily for him, Mayhem's "spiked gloves" and "great personal style" reappeared at the Couture Council luncheon honoring Oscar de la Renta and a number of shows during Fashion Week. Mr. Nault describes his own collection as "high end but with an edge to it." The same could be said of Mayhem.
Mr. Hudson wants Mayhem to stand out from the crowd, he doesn't want her to follow it. He suspects, though, that the crowd will follow her. "Who knows, maybe we'll all be sporting spiked gloves next year," he said. "Although I hope not—those things will take your eye out."