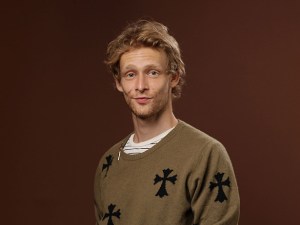 Johnny Lewis, a 28-year-old actor known for his role as Kip "Half Sack" Epps on FX's Sons of Anarchy, has died. Los Angeles authorities tell TMZ that Mr. Lewis is also their only suspect in the murder of 81-year-old Catherine Davis, from whom the actor rented a room.
TMZ reports on the awful scene discovered after cops arrived at Ms. Davis's Los Feliz home:
According to our law enforcement sources, 28-year-old Lewis was found in a driveway Wednesday morning in the Los Feliz neighborhood — and the elderly woman who owned the home was found dead inside … the victim of a homicide. Investigators say they believe Lewis beat the woman to death.
Mr. Lewis, who once dated pop star Katy Perry and also starred in films such as AVPR: Aliens vs Predator–Requiem and The Runaways, also allegedly attacked two men at the scene with his bare hands and a 2X4. TMZ reports the actor seemed "phenomenally strong" and may have been on PCP or meth at the time of his death.
The Los Angeles Times reported that Catherine Davis was indeed bludgeoned to death.
It isn't clear whether Johnny Lewis died while trying to flee the scene or committed suicide.