Nothing surprises any more when it comes to Peregrine Financial Group, the Iowa-based futures broker that filed for bankruptcy amid charges that founder Russell Wassendorf Sr. stole client funds.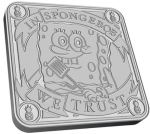 There was Mr. Wassendorf's claim—made in a note left before his attempted suicide—that he'd used a scanner, Photoshop and a fake P.O. Box to keep regulators from learning that the firm was missing more than $200 million in client funds. And reports that the Peregrine founder had squandered tens of millions of dollars in Romanian real estate. And there was the matter of the commemorative silver coins, stamped with characters from SpongeBob Squarepants, that the firm's bankruptcy trustee listed among the firm's remaining assets.
But fewer cartoon coins than previously thought, according to a filing by the trustee:Hundreds of SpongeBob SquarePants silver coins thought to be in the possession of Peregrine Financial Group, the bankrupt commodities futures trading firm, have gone missing. The disclosure that 304 silver coins sporting the image of TV cartoon character SpongeBob SquarePants could not be located was made in a court filing on Thursday by Peregrine Financial's bankruptcy trustee. Thirty-nine ounces of gold were also missing.
The gold, according to Reuters, is worth about $66,000 at today's prices; the SpongeBob coins retail at about $20,000. There's more bad news in the filing, with firm assets totaling about $270 million, less than the $500 million to $1 billion previously estimated.
Among the more unusual assets that were found: A baseball glove signed by former Yankees manager Joe Torre and Hall of Famer Johnny Bench, and more than 100 Internet domain names, including pfgsucks.com—a web address whose value only figures to increase.