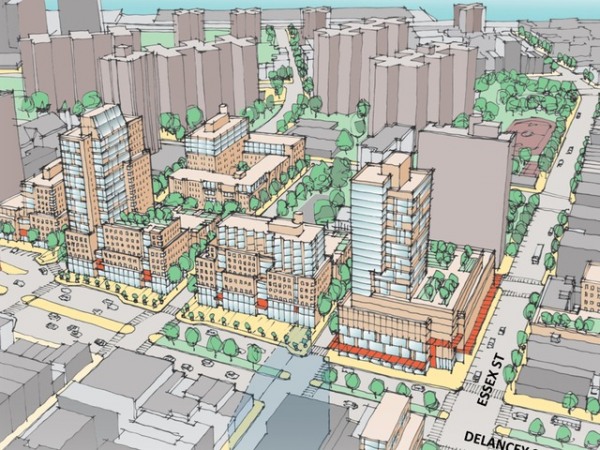 Yesterday, at a City Council hearing on the Seward Park Urban Renewal Area, more commonly known as SPURA, the proper pronunciation of acronym—s-pure-rah? spur-ae? spewer?— wasn't the only point in contention. The other question, the one the public, very many of them, had come out to answer was: Could New York finally take real steps, after nearly 40 years of waiting, to develop a long-neglected series of parking lots on the Lower East Side while still maintaining the famed spirit and character of that neighborhood. Or, as some would have it, would SPURA become just another in a long chain of missed opportunities.
The hearing, chaired by council members Steve Levin of Brooklyn, chair of the zoning subcommittee, and Margaret Chin, the local rep, was a packed affair with the honorable Mr. Levin often reminding people to show their appreciation by, "doing the Occupy Wall Street thing," as he wiggled his fingers in the air. "Jazz hands" is the technical term, we believe. It was a gesture that would be seldom actually seen during the next three and a half hours, with many of the speakers, both for and against the project, receiving their own rounds of loud supportive applause. The truth was this crowd came to be heard and many of them had been waiting for a very long time.  
People like, Tito Delgado, who told The Observer his own personal connection with the SPURA project and the urban renewal campaign that created these empty lots in the first place.
"I was 15 when we were all evicted. We lived in a community that was poor, working class, and it was a mixture. It was real working class, the real lower east side. In my building, it was thirty units, we had 14 different ethnic groups and nationalities and that was reflective of the whole neighborhood.  That was what was destroyed. It was more than housing. It destroyed a whole community of interaction of people and cultures. There was Irish kids that spoke spanish. We danced to black music. They danced to Salsa. It's what the Lower East Side really was and I think that's why so many people are attracted to it but that all seems to be going now."
Mr. Delgado now works with the Seward Park Area Redevelopment Coalition (SPARC—they love these acronyms), an organization that has been a vocal advocate of the current SPURA plan, working closely with the community board as it developed the specific planning guidelines now being discussed. Though even Mr. Delgado is not without his reservations, saying, "It's not a perfect plan but it's a good plan compared to the alternative. I mean, what's the alternative? The alternative is leave those plots empty for another forty years."
The imperfections that Mr. Delgado is referencing are many — Will there be a hotel on the site? A box store? What will the relocation of the Essex Street Market entail? — but non is as pressing as the concern over the amount of affordable housing provided for in SPURA, just half of the 900 proposed units.  It's a contentious point and one most heavily vocalized by the members of The Coalition to Protect Chinatown and the Lower East Side (CPC) who have moved to vote against the entire SPURA project if their isn't a special allowance made to make all of SPURA's units 100% low income housing.  It's a high demand, especially on land so obviously ripe for development.  Council member Chin described the situation best in her opening remarks, "These parcels of land sat vacant.  While just north of SPURA, a neighborhood — now famous for its nightlife and restaurant scene — was growing.  Today, the value of this publicly-owned land is now high and developers, and the city, are anxious to develop it," adding that, "the value of SPURA cannot be measured in dollars."  Not by some anyway.
But the CPC is ready to play ball too. They've brought in their own developer, Mr. Ben Wong, owner of the Wok & Roll fast food chain and two hotels in the L.E.S., who pledges to build a complex of entirely low income housing on the SPURA site if the city will let him. It is a claim that Mr. Delgado just can't believe.
"A few days ago they put out a press release saying, 'we have this developer who's going to give us 100% low income.' Well I've been involved in housing a long time. I'm not a developer but I know that that's not possible. It's not possible. And in my experience when has the private sector ever given working people anything except, you know, a foot on the neck. It's only been through government that we've gotten anything, jobs, housing, schools, public parks. The private sector doesn't give a damn about the average person. All they care about is the bottom line."
Not that it's not a dream he doesn't believe in. But nearly forty five years after being evicted from the very land under discussion, Mr. Delgado has reasons not to want to try and shoot the moon anymore, "If we were under a different society when the profit motive wasn't everything.  Then maybe we could get 100% low income.  But that's not the reality.  450 units is not going to solve the problem.  But 450 units for poor people, working class people, is something.  It's something."
Affordable housing is a fight Margaret Chin has been having for a long time. In fact, just the notion that 50% of SPURA has been given over to affordable housing in perpetuity can be seen as a huge victory for the local community.  Not that recent history isn't without it's reminders that, "in perpetuity" can be almost as variable as the word "affordable" in this city.
Just north of the SPURA development site sits The Grand st. Co-Ops. A four building housing complex of nearly 4,000 apartments built over a period of thirty years from the 1930's to the 1960's by the labor movement for low and middle income residents.  A designation that was, on paper at least, in perpetuity. That is until 1996 when a majority of share holders said, in one testifiers words, "to hell with that," and threw it all out. The houses now range in the hundred of thousands of dollars, well out of reach of most middle income families. It's a lesson not lost on some of the speakers at yesterdays meeting, "for the new people living in the SPURA there's going to be a lot of pressure among themselves to speculate."
In as much as the economic forces of gentrification seem unavoidable, the social forces surrounding any neighborhood still remain a delicate balancing act. It's a balancing act that SPURA does it's best to maintain. As Jet Toomer, a native lower east sider and a strikingly assured young voice from the neighborhood housing and preservation organization GOLES, tells The Observer, "there's always a tension when we see gentrification happen.  We see the split happen between the people who move in and the people who stay, or the people who are forced out. The resentment comes from people seeing their institutions get pushed away. Now the neighborhood is going to change. That's just the reality of New York. Everything is constantly in flux. But if it doesn't happen so blatantly in disregard of the people who live there. I think we could create a place where people would feel more comfortable together."
Any large project like this is going to be a story of compromise.  But assuming that SPURA gets the go ahead, and assuming that nothing gets re-worked or railroaded in as the developers start trying to make the cities guidelines fit with the economic realities of building in New York — a big assumption indeed — Ms. Toomer remains hopeful for the future, "The reality is that we're running out of space.  I think SPURA will be a great opportunity if it's a real reflection of the neighborhood.  There are hipsters, there are fake socialites, there's euro trash, there's hood, seniors, there's everything here, which is dope.  I hope SPURA could be an accurate reflection of that where people can actually thrive and create culture. I think we'll have something really good."