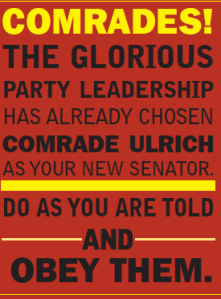 Can you tell it's only a few days until Election Day? Republican State Senate candidate Juan Reyes has officially taken off the gloves when it comes to dealing with his GOP rival, Councilman Eric Ulrich.
Upset that the state GOP leadership is fully backing Mr. Ulrich to take on Democratic Senator Joe Addabbo, Mr. Reyes has sent out a mailer in the eastern Queens district declaring, "COMRADES! THE GLORIOUS PARTY LEADERSHIP HAS ALREADY CHOSEN COMRADE ULRICH AS YOUR NEW SENATOR. DO AS YOU ARE TOLD AND OBEY THEM."
Mr. Ulrich is PhotoShopped to be wearing a Soviet military uniform next to that declaration, while on the backside of the flier, Mr. Reyes urges voters to "Say NYET! to Soviet-style Elections" next to a black-and-white photo of Soviet leaders saluting.
The entire GOP political establishment isn't behind Mr. Ulrich, however; the Queens Republican Party has officially backed Mr. Reyes. But the Senate Republican conference has a little more muscle behind their endorsement and has transferred hundreds of thousands of dollars to the aspiring state senator's campaign account, making him the favorite when voters head to the polls next Thursday.
Mr. Reyes' mailing concludes by features photos of several founding fathers and suggesting Mr. Ulrich winning the election is tantamount to the authoritarian system the United States freed itself from in 1776.
Reached for comment, Mr. Ulrich's spokeswoman Jessica Proud wasn't amused.
"This senate district is home to many Eastern Europeans who fled Soviet oppression for freedom here in the United States," she said. "For Mr. Reyes to bring images of that terrible and brutal period of history is deplorable and he owes an apology to those he's offending and to Mr. Ulrich for the disparagement."
She added, "This mailer is also an exact same copy of a piece that was done in a state senate race ten years ago. It's a retread from the John Fleming campaign in seat that now belongs to Jeff Klein."
View below:
[scribd id=105234311 key=key-b1xrug36v00qxsbgqi5 mode=scroll]