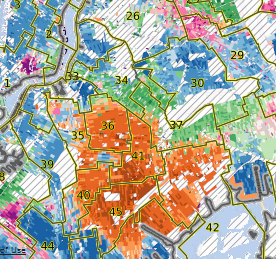 Yesterday afternoon, the New York City Districting Commission released its draft proposals for the district boundaries going into the 2013 elections, setting the first stage in framing what is destined to be a number of competitive councilmanic races next year.
However, in a statement, Chairman Benito Romano urged the public not to get ahead of itself and said the redistricting process is still ongoing. One way the public can provide input, the commission said in a followup statement this morning, is their online mapping tool now on the government website.
"There are many more views that need to be shared with the Commission given the significance of redrawing these lines for the next ten years," Mr. Romano said. "We encourage the public to participate and look forward to hearing from more of the public in the second round of hearings."
CUNY's Center for Urban Research also released a redistricting tool this morning, an interactive map to let users take a more specific look on exactly what has changed, and what those areas look like demographically. You can also type in a specific address to see if a particular location has moved from one district to another.
Additionally, the commission provided a spreadsheet with the demographic breakdown of each individual district in the draft plan, as well as the current boundaries.
Minority advocates have already leveled criticism at the maps that were released and have provided their own map that increases the number of Asian and Latino-influenced districts. Time will tell if the final map is receptive at all to this to sort of input.