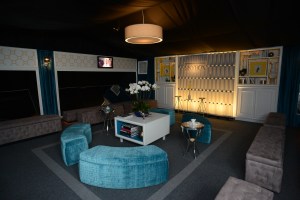 "We like that you feel a little chaotic and it's all very well planned," explained a representative from American Express. "This is an opportunity for us to give back to our premium card members who are passionate and we are giving them a very immersive experience, as you can see, with the models running around."
Cardmembers are spoiled with backstage tours, coups de Champagne and a gourmet spread worthy of a sultan.
"They get rushed into a show right as it is about to begin and then the best part is that after the show they get to come back into the studio and the designer comes in for a Q&A," we were informed by one of our hosts.
The Observer threw back a few a glasses in the sun-lit salon that had been tastefully decorated with cozy loungers and a private hair salon replete with stylists, before we were ushered to the front-row of Cushnie et Ochs's runway presentation last Friday.
The exclusive experience isn't for your average chum. Wealthy Centurion and Platinum cardholders pony up big bucks for the VIP packages backstage at Milk Studios and in the Skybox at Lincoln Center. For this fourth incarnation of AmEx at MADE at Milk, members from Los Angeles, Dallas and even London jetted into New York for as briefly as one day of fashion shows and boozy, behind-the-scenes action.
These folks avoid the lengthy delays of press check-in, horrendous fashion personalities and truthful banality that fashion week quickly becomes. In fact, the VIP experience utterly fabulous, if not downright obliviously serene. The Observer was more than content to dip our cup deep in the well and indulge.
"It's pretty smooth sailing," one well-dressed AmEx staffer confessed.
Indeed it was, perhaps the most relaxed we would be for a very long time, during a very fussy week.
It's not all about lucrative and getting chumming with top-notch clients. American Express actually makes efforts to do some good. In addition to providing support for emerging designers through its partnership with MADE the company contributed a hefty $250,000 donation to the CFDA/Vogue Fashion Fund, a program of the Council of Fashion Designers of America (CFDA), we were told.
Thursday, September 13, American Express cardmembers will get to canoodle with celebrity stylist and reality show empress Rachel Zoe and experience a special runway show. "It's going to be an incredibly fun and fashionable evening," forecasted Ms. Zoe.
We'll of course be on the scene and fill you in on precisely all that goes down.