Jean Rhys. From the Fay Godwin Archive at the British Library
$125 (Possible substitute)
$45 (Substitute photo of a small quiet polite hamster exercising on a treadmill in a field alone)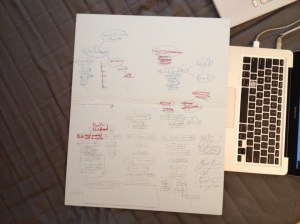 Post-wunderkind New York literary staple Tao Lin has either spent or not received the majority of the $50,000 he was to receive from for Vintage/Knopf for his book Taipei, the Bret Easton Ellis-meets-Siddhartha novel that is due to the publisher any day now. And if you've been keeping track, the author has not been cut a check by Sarah Lawrence either, where he teaches classes on the contemporary short story. (No word yet on how much Vice is paying him to make Photoshops of drug-related imagery.)
This has left Mr. Lin broke and, for at least the second time in his career, desperate enough to sell all of his possessions. While the first round of self fund-raising in 2011 involved a Vimeo showcase of his eBay items, this weekend's cry for cash was limited to a now-deleted tweet and a correspondence with The Observer over what he's willing to part with.
So grab your piece of Tao Lin history with this lot of the scribe's juvenilia, all of which have been confirmed for sale by the writer himself. Several of the items did not include pictures, and we were required to take the images from a different source … mainly from Mr. Lin's endlessly amusing Flickr.
So far he has sold a three drawings for a total of $48, a $15 book, and a collection of literature of his choosing for $50. He was sent a $200 donation via PayPal by a generous benefactor. But there's still so much more of Mr. Lin's never-before-seen oeuvre left! Just think of all the money you could make by one day selling a signed and dated copy of the writer's journalism notes from his 2003 NYU class, or 15 to 20 unpublished poems he turned in for another NYU credit. Or how about a drawing of a koala? And while he doesn't have the time to write commissioned fiction, he told The Observer that he'd consider taking requests for an art piece. For the right price, of course.
If none of this ephemera interests you … well, there's always that juicer.