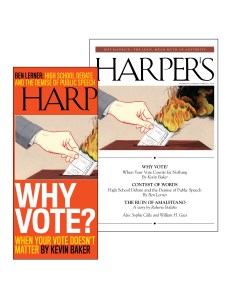 Harper's basically hasn't changed since 1984. But next month's issue of the highbrow magazine will feature a shake up that Harper's readers may notice. For the first time in the magazine's 165 years, there will be a business commentary column.
Jeff Madrick, who has written about business and economics for a variety of publications including a five-year stint as a columnist at The New York Times, will debut "The Anti-Economist" column in the October issue of the magazine.
"These days, reporting on and demystifying economic news is one of the most important responsibilities journalists have to their readers," said Harper's editor Ellen Rosenbush, in a statement. "Jeff's sharp eye and informed voice will make his column the perfect companion to Thomas Frank's Easy Chair at the front of the magazine."
"The Anti-Economist" column will be somewhere between 1,500 and 2,000 words (which is short for Harper's, notes Jason Chupick, vice-president of PR at the magazine) and add four pages. Mr. Madrick will also blog about economics for Harpers.org. The website is expected to relaunch "sometime before the election."
Mr. Madrick's first Anti-Economist column, "The Myth of Austerity," examines the (apparently) widely-held idea among many economists that the way to end the recession is to cut deficits and decrease public services.
The Observer last bumped into Mr. Madrick in Zuccotti Park a year ago.