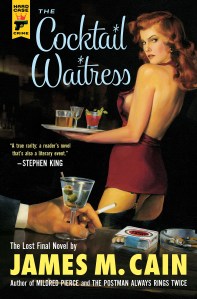 At the end of chapter two of James M. Cain's The Postman Always Rings Twice—published in 1934, the same year the Hays Code sanitized Hollywood—a drifter takes a job at a gas station and sees the owner's wife for the first time. The two find themselves alone for a few minutes. He kisses her, and she begs him—"Bite me! Bite me!"
"I bit her. I sunk my teeth into her lips so deep I could feel the blood spurt into my mouth. It was running down her neck when I carried her upstairs." What took the Twilight saga 1,700 pages, Cain got to in eleven.
A failed opera singer turned journalist, Cain became infamous for novels like Postman, Double Indemnity and Serenade, where raw lust compels ordinary people to commit extraordinary crimes. By 1950, his best work was behind him, and he spent the next three decades sliding into obscurity. He died in 1977, so alone that he bequeathed his estate to his landlady.
Although two of his unpublished works were released in the '80s, his last book, The Cocktail Waitress, was thought lost until a thorough search was mounted by the editor of Hard Case Crime, a highbrow pulp house that specializes in these kinds of hardboiled resurrections. The Cocktail Waitress is far from Cain's best work, but there are moments where his old ferocity shines through.
The story is a throwback to classic noir. Its narrator is a beautiful young widow named Joan who's just finished burying her husband when she is visited by the police, who are not quite convinced that his death was accidental. As they try to build a case against her, Joan takes a job at the local roadhouse, where her low-cut blouse soon attracts the attentions of a pair of men—one virile and broke, the other decrepit and rich, with a ticker bad enough that sex would be suicide. You can probably guess to which one our heroine gravitates.
Otto Penzler, a crime fiction editor and owner of The Mysterious Bookshop in New York, first met Cain a few years before his death. Last week, sitting in an office underneath his store jam-packed with first editions, he reminisced.
"He had the saddest stationery," said Mr. Penzler. "It said, 'Just call direct. I'm the only one here.'"
Because he had no serial character (á la Philip Marlowe), did not write mysteries, and rarely sunk to happy endings, Cain is not as well-remembered as his revered contemporaries, Dashiell Hammett and Raymond Chandler. And, like Tennessee Williams, his career's long tail did nothing to elevate his posthumous reputation.
"Chandler only wrote seven novels," said Mr. Penzler. "Hammett only wrote five. It doesn't help to hang on."
Though Cain "wasn't exactly Mister Warmth," he and Mr. Penzler corresponded occasionally. The last time they spoke, Cain yelled at him for calling at an unreasonable hour, even though it was only five in the afternoon.
"I think he was losing it. I think he thought it was 5 a.m. That was my last conversation with him. Not a good way to finish it."
Cain died soon after, leaving behind the unpublished manuscripts for Cloud Nine and The Enchanted Isle, which Mr. Penzler soon brought into print. But The Cocktail Waitress drew no attention at all, and would never have been published were it not for a peculiar man named Charles Ardai, founder of Hard Case Crime.
"I think these authors deserve better," said Mr. Ardai, "even if their last book isn't the best thing they ever wrote."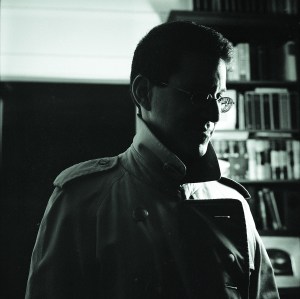 Founded in 2004, Hard Case Crime was an attempt to recreate the pulp style exemplified by the Gold Medal paperbacks of the '50s and '60s. Marked by oversexed covers and irresistible titles like Homicide Hussy and One Monday We Killed Them All, Gold Medal books sold for as little as a quarter, and gave authors like Elmore Leonard, Donald E. Westlake and Lawrence Block a chance to learn their trade. When he founded Hard Case, Mr. Ardai knew that the crucial thing—besides the sultry cover art—was to be "completely unironic."
"This wouldn't be Tarantino doing a modern gloss on something old-fashioned," he said. "You might sell one book to someone that way, but you won't sell a book a month every month, because it gets old."
Since before starting as a publisher, Mr. Ardai had been looking for The Cocktail Waitress. He first learned about it from Max Allan Collins, a Hard Case author and devoted Cain fan who remembered a long-ago interview that contained a passing reference to a novel about a waitress whose life is changed by a $50,000 tip.
"I had not read it," said Mr. Collins, "but I knew what the plot was, and it sounded like the most absolutely quintessential Cain setup."
Mr. Ardai expected a few months' work. It ended up taking nine years.
The book was nowhere, and the author's estate—now controlled by the landlady's son—was not encouraging. Their attitude, Mr. Ardai said, was that "if it were a great book, it would have already been published." After an exhaustive search of rare manuscript collections, library archives and the estate's files, a copy finally turned up in the filing cabinet of H.N. Swanson, an old-school Hollywood agent who died in 1991.
In the golden years of the studio system, when big-name novelists came west in search of easy money, they signed with H.N. Swanson. Besides claiming to be the man who convinced Fitzgerald to ditch the title Trimalchio in West Egg in favor of The Great Gatsby, Swanson represented James M. Cain. In his files was a typed manuscript of The Cocktail Waitress—complete all the way to "The End."
"I was almost afraid to crack it open," said Mr. Ardai, "for fear that it would turn out to not be strong."
Though the prose was "more florid, not the very terse, pared-back style he became famous for," Mr. Ardai liked what he read. After a few chapters, he was hooked.
Then came the deluge. Besides the typewritten manuscript, he found dozens of fragments and false starts, all written in the cribbed, impossible-to-decipher hand of an old author with chronic heart trouble. Over the course of a few months, he assembled the best of each draft into a single text.
"It was far more work than writing my own book," he said. "It was a literal headache. But when I was in my twenties at Columbia and first picked up Double Indemnity, if someone had told me, you're gonna get headaches and you're gonna get eye strain, but you get to edit Cain's last novel, I would have jumped at it."
Lawrence Block, who scored a blurb from an ailing Cain when he published his first Matthew Scudder mystery in 1976, returned the favor for The Cocktail Waitress. By email, he said the book was "an important occasion," even though "Cain was a wildly uneven writer." But, "if it leads a new generation of readers to a rediscovery of him and his finest works, it performs a true service."
Important, of course, isn't the same as good. Thirty-five years after its author's death, nearly a decade after its publisher began searching for it, The Cocktail Waitress has finally swayed into the room. How does she look?
It's not Postman, but nothing is. There is a killer story somewhere inside this book, buried underneath passages of limp writing and questionable plotting that, while they keep it from greatness, make The Cocktail Waitress even more fun to read.
The trouble starts with our narrator, Joan. In attempting to get inside a woman's skin, Cain gets stuck in an uneasy compromise between a femme fatale and an actual female character. Joan thinks of herself as a collection of legs and breasts; she sees men as wallets to be opened and emptied. In Double Indemnity, while the male narrator is distracted by "a shape to set a man nuts," we can imagine there might at least be a brain underneath Mrs. Nirdlinger's "dusty blonde hair." The Cocktail Waitress, however, reads as though Joan is objectifying herself.
In the first chapter she meets the man whom, she claims, she will "come to crave as I crave life itself." But the passion never overwhelms her—she is too calculating to ever murmur "Bite me! Bite me!"
The book is most interesting when we can see the lonely old author peering out. Joan's wealthy benefactor suffers from angina, and will die if he gets too near a naked woman. Knowing Cain had the same ailment makes the wrinkled old pervert the most authentic, even empathic character in the whole novel. When Joan spends all day in bed with her younger, healthier lover, eating scrambled eggs straight out of the pan because they are in such a hurry to get back to screwing—here we see a Cain who is as sorry as we are that he ever had to grow old.
Given a week with the manuscript, the James M. Cain of 1935 would have sliced it in half, and filled its characters with enough animal lust to drive them half insane. That fire was gone by '77, but some embers still burned. Occasionally the prose tightens up and the dialogue sparkles, as when he closes a chapter with, "I drove back to Hyattsville, with butterflies in my stomach, and a feeling that I might be playing with fire." It may not take the breath away, but it's at least good for a gasp.
editorial@observer.com