On a steamy night on the corner of a Bedford-Stuyvesant block in late August, District Attorney Charles Hynes stood waiting for the Reverend Al Sharpton.
Though he has fought crime in the borough for decades, Mr. Hynes, who is in his sixth term as the Brooklyn district attorney, looked slightly out of place loitering on a dark patch of sidewalk in front of a dicey-looking housing project near midnight.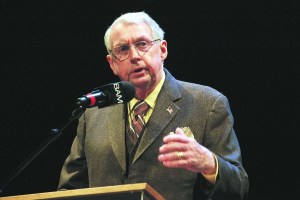 Well into his 70s, Mr. Hynes is grandfatherly in appearance, white-haired and slightly hunched. He wore a bright blue checkered shirt, cleanly pressed, with an open collar. He waited patiently, a sizable police detail nearby, until Rev. Sharpton arrived, 20 minutes late, in a chauffeured black Navigator.
The gathering, which its organizers called Occupy the Corner, had been staged to protest the gun violence that has sprung up in recent months. Though the event was aimed at a spate of recent deadly shootings in problem Brooklyn neighborhoods like Brownsville and East New York, the message had been made all the more poignant by a shooting earlier that day in Manhattan in which a gunman murdered a former colleague outside the Empire State Building before being killed in a hail of fire by the NYPD.
"We're not going to be intimidated … these are our communities, these are our streets, and this won't continue," Mr. Sharpton said in front of a small crowd of community members, news media and politicians, including Councilwoman Letitia James and Assemblyman Hakeem Jeffries, who is running for congress.
"We're not going to stand by and let them overwhelm our streets and kill our children," Mr. Hynes added when it was his turn to speak. "Whatever it takes, the people rule this city and not the thugs."
There's no doubt Mr. Hynes is proud of his record taking on violent crime in the borough—and he has a right to be. During his 23-year tenure in office, homicides have fallen precipitously.
"Brooklyn had less than 200 murders last year," Mr. Hynes told The Observer, indulging his habit of frequently trotting out the impressive crime statistics of his tenure. "That's the least since 1963, and this year we're 23 murders fewer."