As big an issue as guns are, however, and as much as Mr. Hynes cares about it, in the murky and sometimes cynical world of Brooklyn politics, the night seemed more than an opportunity to take a stand against violence; politically, it was a chance to grab some screen time with some of the most prominent leaders of New York's black community—a voting bloc Mr. Hynes knows he would be wise to court.
"We're happy D.A. Hynes has joined us tonight," Rev. Sharpton said. "Most D.A.s just prosecute us; he's one that is standing with us."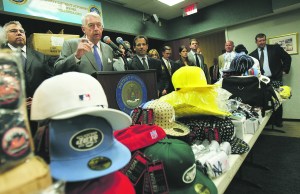 In the wake of withering criticism, Mr. Hynes can certainly use endorsements like this.
In May, The New York Times ran a series of articles about the district attorney's cozy relationship with influential rabbis in Brooklyn's Orthodox Jewish neighborhoods. Among the reports were disclosures that Mr. Hynes and his office had agreed last summer to allow a prominent religious organization, Agudath Israel, to vet sexual molestation accusations within the Hasidic community internally before reporting the allegations to the authorities.
The story drew a sharp rebuke from Mayor Bloomberg, who according to the Times said he "completely disagrees" with such an arrangement—the kind of top-level complaint rarely lobbed at a D.A. in this city, especially one as tenured and respected as Mr. Hynes.
The reports also took a critical view of techniques Mr. Hynes has employed to encourage victims of sexual abuse to step forward, and they questioned whether his office has pursued meaningful sentences against admitted molesters. To this day, Mr. Hynes will not release the names of accused Hasidic suspects of sexual assault, even though sheltering the identity of someone indicted for a crime is a highly unusual practice among district attorneys and has drawn persistent criticism from victims' groups.
"We have completely disagreed with the policy of not releasing the names of the abusers," Mark Appel, founder of a victims' advocacy group, told The Observer. "A Jewish child should be identical to any other child.
"With past cases, we have not had good outcomes," Mr. Appel added, referring to situations such as the 2008 plea-bargain agreement with Rabbi Yehuda Kolko, who had been charged with sexual abuse at a yeshiva in Flatbush. In that case, Mr. Kolko received probation. "Every D.A. has the power to put more effort into the prosecution with more investigative work. One way to do it is to publicize an alleged abuser because you're sure to bring out previous cases that people didn't want to talk about."
District Attorney Hynes has vigorously defended sheltering the names of the accused. Given how tight-knit the Hasidic community is, revealing a suspect's identity, he says, is tantamount to outing the accuser, thereby dissuading victims from coming forward.
"It was absurd," Mr. Hynes told The Observer during his appearance with Rev. Sharpton (he wouldn't agree to a subsequent interview). "Before I had that policy, I wasn't able to have any prosecutions. As of this morning, I have 114 Orthodox Jews under indictment."
Amid a recent spate of career-sinking bombshells such as Vito Lopez's sexual harassment scandal (also courtesy of the Times), the coverage was damaging but not damning. An ugly conclusion was hard to avoid: Mr. Hynes had seemingly ignored serious crimes or handed out wrist-slaps to members of the Hasidic and Orthodox communities. In exchange, these cloistered neighborhoods, which cherish their autonomy and insularity from the secular world and its authorities, gave him critical support at the polls.