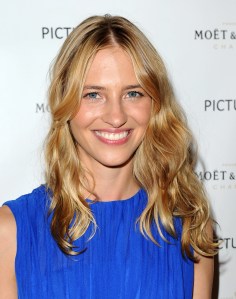 Ms. Ziff, a tousled blonde who has walked the runway for Prada and graduated summa cum laude from Columbia, has partnered with Fordham University's Fashion Law Institute and filled the nonprofit's advisory board with prominent mannequins like Coco Rocha, Milla Jovovich and Shalom Harlow.
"It's important to get the right message out there," Ms. Ziff insisted. "It's not about finger-pointing, or saying that this agency is bad or this client is bad. You need to give people the chance to do the right thing. It's easy to blame, but there have been no standards. The way you get results is by sitting down with them at the table and encouraging them to improve their business practices."
Support for the Alliance is stronger than ever, but it remains quiet. Even the donors are anonymous: Ms. Ziff told The Observer that one big-name model had donated an impressive amount when they began their organization, but only on the condition of anonymity. Supermodels whom the Alliance has reached out to, like Cindy Crawford and Tyra Banks, have been hesitant to throw their full support behind what would seem like a no-brainer cause, possibly for fear of industry retribution. Ms. Banks told us she had been contacted by Ms. Rocha about the project and expressed interest in its goals, but added, "I've been so crazy lately, I haven't had time to really look at the group yet."
Jenna Sauers, a model-cum-Jezebel blogger who serves on the Model Alliance board (and has also written for The New York Observer), told us about her own experience in the industry over a dinner of spider-crab rolls. Ms. Sauers, a New Zealand-born beauty, began as a child model for department store catalogs at eight, took three years off at 11. When she returned to the game at 14, she found herself in an entirely new business.
"Going from child modeling to adult modeling—which is a funny term, because it's basically dressing kids up as adults—there was a new level of, 'Well this seems slightly odd, but I guess I'll go with it because all the adults around me are acting like it's totally normal,'" she said. "Like the fact that once you hit 25, you're considered ancient. It's like Logan's Run.'" (Ms. Sauers is 26.)
Ms. Sauers explained that the modeling business operates behind a very well-established scrim of secrecy to protect shady business practices. "The fashion industry has been so skittish about embracing public attention on anything other than its own, very well-defined terms for such a long time," she pointed out. "Nobody is supposed to reveal what's behind the curtain."
This might explain the actions of Ms. Hasbrook, the unpaid Marc Jacobs model, who recanted her complaints after her Tumblr post went viral (thanks to Ms. Sauers's posts about it on Jezebel), in terms so affectless they sounded like the videotaped confession of a POW: "I loved working and doing looks for Marc Jacobs. I was actually one of the favorite jobs I have had so far," she wrote. "I actually preferred to be paid in trade … There was an entire room filled with clothes and shoes that I was asked to choose from. Everything was amazing."
In her comments at the Girl Model screening, Harvard researcher Briana Goodale helped explain Ms. Hasbrook's flip-flop. (A paper she co-authored, Why peers reject whistleblowers: A social cognitive examination, won a grant from the Edmond J. Safra Center for Ethics, and has established her as something of an authority on the subject.)
"What we found during our two years of research is that it takes a pretty significant amount of wrongdoing for people inside your own peer circle not to dismiss you as a tattletale," she said.
"You actually end up attributing traits to people who are whistleblowers, depending on the level of 'badness' they dealt with. For example, if you take two underage models, and one speaks up about being sexually molested by a photographer, and the other speaks up about being kept past certain hours on a school night, we found that people attribute positive personality traits to the person who spoke up about the really, really bad thing. On the other hand, people will associate negative traits to the person who spoke up about staying late … that they're a tattletale."
The fear of being blacklisted is so ingrained in the fashion world that only one person still working in the business agreed to speak to The Observer on the record. Supermodel Shalom Harlow is on the board of the Model Alliance. In 2007, the 33-year-old was named one of the top 15 highest-earning models in the world. (She was also the first-ever winner of Vogue/VH1's Model of the Year, an award we honestly thought was made up for Zoolander.)
"At this stage in my career, I may not have to worry whether I'll be paid for a job, or if I'm going to be properly fed, or if someone is going to be sexually inappropriate toward me, but I'm the exception," she told us by phone.
"Unless you are in that minority, there is no protection, no recourse. You could try to go through your agency, but oftentimes those agencies are the perpetrators. Until the Model Alliance, that is," she added. "Now at least there is the beginning of some systematic order for change."
It seems to be working. When Vogue announced in May that it would no longer be using underage models in its editorials, which pay approximately $150 (so now only lucky girls aged 16 and up will be considered), it was thanks in part to a CFDA and Model Alliance partnership. The group also holds workshops like "The Business of Modeling," in which board member Doreen Smalls—an adjunct professor at the Fashion Law Institute, who taught the first-ever course in Fashion Modeling Law—gives members advice on how to read contracts and negotiate with agencies.
But while most everyone The Observer spoke to was supportive of the Model Alliance's goals, some were doubtful about the group's chances at achieving massive reform.
"I just think what [Sara Ziff] is doing is very quixotic," said Michael Gross, author of Model: The Ugly Business of Beautiful Women. "She's tilting at windmills. Because when you have a 14-year-old modeling, the problem isn't the agencies. The problem isn't the fashion magazines. It's not Marc Jacobs. The problem is the parents. What kind of idiot parent lets their 14-year-old go off to a big city to model without being on top of them?"
Perhaps, but if the industry weren't ready to take advantage of poor parenting, its consequences wouldn't be so destructive. As we dive into another Fashion Week, sure to be marked by waifish girls who look—though, fingers crossed, aren't—prepubescent, tottering down Lincoln Center's runways, it seems impossible to imagine that until recently there was so little oversight governing the role these young swans play in the multibillion-dollar apparel trade.
Still, as one model management veteran sniffed, "What model wouldn't want to work for Marc Jacobs? He can make your career!"
Nonetheless, The Observer has learned that Mr. Jacobs's company has adopted a new policy for this Fashion Week. According to a rep for the designer, "all model agencies [have been] made aware" that the young women who stomp down the runway in his ultra-chic looks on September 10 and 11 will now be offered a choice: they will be paid either in trade or in monetary compensation.