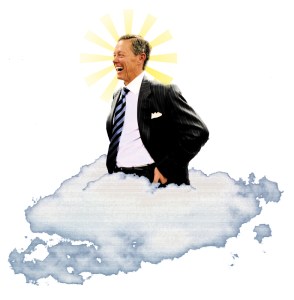 What a relief it was to pick up my New York Times this Sunday and see that Damien really is back in town. I thought I'd spotted him at the Republican convention, felt sure I'd caught a whiff of sulfur when he passed, found myself swarmed by his usual entourage of flies. It would have been hard to miss him, since he was wearing a pink tie and a green plaid jacket at the time.
Yet I told myself I must be hallucinating under the relentless Tampa sun. Surely there was no way even today's Republican party could have welcomed the Antichrist—a k a Ralph Reed—back into the ranks just six years after he imploded so spectacularly amid the Jack Abramoff scandals.
Reed, whose "preternaturally youthful" appearance, as the Times described it, still makes you think he must have "666" etched just above his brow line, got his start in the first heady days of the Reagan administration, when he was one member of what was known as the "triumvirate," running the College Republican National Committee (CRNC), along with Mr. Abramoff and Grover Norquist.
Reciting all the juvenile, pseudo-military jargon that generations of Republican rat-fuckers have adored since the days of Watergate, the triumvirate planned to "permanently" remove their opponents from power. Their skills complemented one another's perfectly: Norquist, the ideologue; Abramoff, the extrovert and champion schmoozer; Reed, the undercover operative.
"I want to be invisible. I do guerrilla warfare," Mr. Reed told a Virginia newspaper in 1991. "I paint my face and travel at night. You don't know it's over until you're in a body bag. You don't know until election night."
There was just one problem before they went upriver to knock off Colonel Kurtz. Mr. Abramoff was an Orthodox Jew, Mr. Norquist was a Harvard grad and Mr. Reed was a Navy brat from Miami. Where was the cultural connection to the Reagan coalition's evangelical Christian foot soldiers?
Then, in 1983, Mr. Reed had a "come-to-Jesus" moment—literally—in a popular Washington watering hole, appropriately named Bullfeathers. Hallelujah! His was far from the first barroom conversion, but few others pulled themselves up Jacob's ladder with such alacrity. By 1989, he was running Pat Robertson's Christian Coalition, featured on the cover of Time magazine as "the right hand of God" …
… and by the time Reed left this post in 1997, he had, as Bill Moyers reported, "driven the organization into the ground," leaving it "nearly bankrupt, under investigation by the Federal Election Commission, and facing charges from its own financial officer that Reed's cronies had ripped off almost a million dollars."
This would prove to be a not-uncommon fate for anything King Ralph got himself involved with. But he was already off into electoral politics, becoming a major fund-raiser for George W. Bush, getting elected state chairman of the Republican party of Georgia and running for lieutenant governor of the Peach State.
Then, Mr. Abramoff's crazily ambitious lobbying operation collapsed. He was charged with overbilling his 10 Indian clients by $25 million, out of the astounding $85 million in fees he had collected from them. Jack had worked his 10 little Indians by pretending that he was protecting each one's casino turf from the others—and also from encroachments by state lotteries, state and federal taxation, and video gambling interests (which Mr. Abramoff also represented).
It was an amazing grift—but he couldn't have done it without his old buddies. He got Mr. Norquist's Americans for Tax Reform (ATR) $1.5 million to fight nefarious, big-government efforts to tax Indian slots. Mr. Norquist in turn funneled hundreds of thousands of dollars to Mr. Reed, who had e-mailed Mr. Abramoff, in his usual ecclesiastical language, "I need to start humping in corporate accounts …" and promised to mobilize "3,000 pastors and 90,000 religious conservative households" in Alabama alone to oppose new gambling ventures on religious principle.
Slick as this scam was, it's hard to get too worked up about ripping off Indian casinos, which have become something of a nationwide bunco game themselves. Much worse was another grift "the triumvirate" was running. This entailed defending the sweatshops of the Northern Mariana Islands, a distant Pacific archipelago that has been a U.S. possession since World War II. Because they're located in an American commonwealth, sweatshops in the Northern Marianas could maintain a minimum wage less than half that of the United States but still sew "Made in the USA" labels into the clothes they produced.
Factory owners on Saipan, where 90 percent of the islands' population is, recruited poor women from China and other Asian countries to toil in the sweats. There they worked endless hours under awful conditions, were routinely ripped off or not paid at all, and were sexually exploited, as a Ms. magazine investigation uncovered.
Those who became pregnant were often forced to have abortions in special hospitals set up next to the sweatshops.
Once again, the triumvirate worked like a well-oiled machine to defend this horror. Mr. Abramoff raked in some $9 million in lobbying fees. Mr. Norquist received thousands of dollars in return for talking up the Northern Marianas as "a model of free enterprise" and having "discussions" with the islands' leaders. His ATR staff received junkets to the islands—as did some 100 congressmen and their families, including Tom DeLay, who pronounced the islands "a perfect petri dish of capitalism" and told its leaders, "You are a shining light for what is happening in the Republican Party, and you represent everything that is good about what we're trying to do in America, in leading the world in the free-market system."
Ralph Reed was onboard to work the religious angle, sending out a mailer to the faithful charging that "The radical left, the Big Labor Union Bosses, and Bill Clinton want to pass a law preventing Chinese from coming to work on the Marianas Islands" because they "are exposed to the teachings of Jesus Christ" on the islands, and many "are converted to the Christian faith and return to China with Bibles in hand." There was no mention of their discarded fetuses.
Then Abramoff was collared.