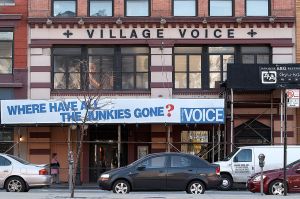 Village Voice Media is undergoing a makeover after some corporate maneuvering over the weekend. Michael Lacey and Jim Larkin, the current owners of the alt-weekly newspaper chain, are selling it to the company's current management. What basically amounts to a restructuring of the beleaguered company means that the newspapers are separating from Backpage.com, the controversial classified site that has been tied to sex trafficking and prostitution.
The chain's 13 newspapers and related websites are being bought by a newly-created holding company, Voice Media Group. The company's former COO Scott Tobias and former executive editor Christine Brennan will run Voice Media Company. Mr. Lacey and Mr. Larkin will continue to run Backpage.com.
"The Voice Media Group will be focusing on core products — hard-hitting coverage, music, food, arts and culture," Mr. Tobias told paidContent, adding there would no changes for day to day staff.
The financial details of the restructuring were not disclosed, nor was the identity of the backer. It is unclear whether Mr. Lacey and Mr. Larkin, who owned a majority stake in the company, are retaining a role behind the scenes. The move is widely seen as a way to distance and insulate the editorial side from the criticism, legal challenges and advertising boycotts that have been a result of the chain's connection to Backpage.com.
Corporate advertisers like Pfizer, American Airlines, Best Buy, AT&T, Ikea, H&M, IHOP, Macy's and the Miami Dolphins professional football team have all pulled their advertising from the newspaper chain in response to pressure on the companies to distance themselves from the classified site.
The company's headquarters will move from Phoenix to Denver. The chain's flagship paper will remain on Cooper Square (for now, at least).
Staff changes have been happening at the chain's papers all year. Earlier this month, Editor-in-Chief Tony Ortega announced he was leaving the paper (although whether he had a choice is a matter of speculation). The company's flagship paper has been plagued by a steady stream of layoffs and firings for months now.