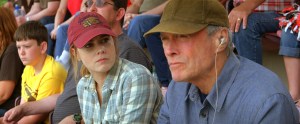 In the often illustrious career oeuvre of Clint Eastwood, Trouble with the Curve is a minor entry, a cinematic footnote. Worse yet, the screenplay and first-time direction, by Mr. Eastwood's friend and long-time producing partner Robert Lorenz, seems like a loyalty benefit, a lazy afterthought. After such post-Dirty Harry triumphs as Unforgiven, Mystic River and Million Dollar Baby, color it disappointing. 
Eastwood plays Gus Lobel, a miserable old codger whose sharp-tongued snarl and cracked Gravel Gertie grumble makes him sound like the same sourball he played in his previous also-ran, Grand Torino. Gus is a grizzled talent scout with the Atlanta Braves with more wrinkles in his face than the gray hairs on his balding head. He's sick, and he's seen better days, but even if the apple won't bite, he's not giving up and he's not giving in. Gus may breakfast on tinned Spam, trip over chairs and other simple household obstacles and harrumph his way through the Medicare years, but he can still spot a future baseball star from an airplane. Time is passing him by (he doesn't even use a computer, which makes him a T. Rex after my own heart), but Gus can still hear the mark of a great pitcher by the crack of a bat. The problem is, his eyesight is failing so fast that he can't always see what he's doing, even when he hears it. One of his greatest discoveries was a batter who has lost his stride. Now the Braves are questioning his judgment. They want to draft a hot young rookie batter using new technology (shades of Moneyball), and with only three months to go before his contract expires, Gus wants one last chance to prove his value. If he can't see what he's supposed to be appraising, he could be fired. He needs help, and the only person he can call on is his resentful daughter Mickey (Amy Adam). Gus has always been a self-absorbed absentee father with poor parenting skills, and Mickey is now a successful Atlanta lawyer—on the verge of becoming a partner in her firm—who doesn't want anything to do with him. But in the kind of plot contrivance you find only in the movies, Mickey knows more about baseball than her father. Go figure. Reluctantly, she takes her first weekend off in seven years, showing up on Gus' scouting trip to North Carolina and straining her credibility with the competitive sharks in line for her promotion in order to save her dad's reputation. When the hotshot pitcher the Braves want to hire fails to impress him, Gus has to find a way to buck authority that could alter the future of baseball.
Half domestic family drama, half gentle sports saga with the saga part missing, Trouble with the Curve is less riveting than it ought to be. Amy Adams more than makes up for her ill-fated appearance in the abominable The Master,and I must admit I laughed at the sight of macho Marlboro Man Eastwood busting up a chair, kicking it into a corner and calling it "feng shui." But the hearty moments are rare, and Randy Brown's screenplay fails to resist sentimentality. (In one scene, Gus visits his wife's grave and speaks the lyrics to "You Are My Sunshine," bordering on embarrassment.) A star of this caliber has earned the right to an off-day at the movies, but I guess I have come to expect a whole lot more. Meanwhile, Mickey falls for a former Red Sox pitcher named Johnny "The Flame" Flanagan (a miscast Justin Timberlake), who scouts for a rival team. This is called conflict. The estranged father-daughter relationship, however, just plods along between innings. Against Gus' objections, the Braves overrule him and pick the pitcher he considered flawed. Now it's up to Mickey to prove to John Goodman, Robert Patrick, Matthew Lillard and other accomplished cast members playing friends, enemies and assorted cynics on the Braves management staff that their prize catch cannot hit a curve ball. She also presents her own discovery as a replacement, just in time for a corny ending I did not find entirely convincing. If you believe an accomplished, self-made woman gives up a law partnership to manage the career of an unknown, then there's this lifetime championship trophy with your name on it in the National Baseball Hall of Fame in Cooperstown, New York, that I can sell you cheap.
rreed@observer.com
TROUBLE WITH THE CURVE
Running Time 111 minutes
Written by Randy Brown
Directed by Robert Lorenz
Starring Clint Eastwood, Amy Adams and John Goodman
2/4