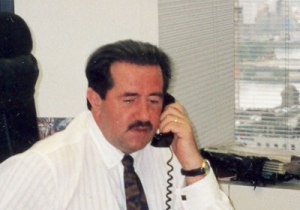 We learned a lot in the Businessweek profile on Alexander Rovt, the Ukrainian fertilizer billionaire who's been making huge, all-cash investments into American real estate lately (he spent $303 million to acquire a majority stake in the Banker's Trust building this April). Mr. Rovt should not be confused with Russian fertilizer billionaire Dmitry Rybolovlev, who spent $88 million on a penthouse at 15 CPW.
First of all, Mr. Rovt hates to be called a Russian oligarch—he's actually Carpathian, a border region that is now part of the Ukraine. And while he did make the bulk of his fortune in connection with the purchase of an old, formerly government-owned Ukrainian fertilizer plant, he is adamant that he is not the kind of Eastern European billionaire who has capitalized on Post-Soviet privatization. 

Also, FYI, while fertilizer might put some people in the mindset of a stinking piles of crap, the kind that became incredibly lucrative during the Post-Soviet privatization that Mr. Rovt absolutely did not capitalize on, is a nitrogen-based chemical product primarily derived from natural gas.
A few other surprises: Mr. Rovt has lived in Brooklyn for nearly 30 years (he left in the 1980s under a program that gave Jews special dispensation to emigrate) and continues to live there despite owning not one, but two townhouses on the Upper East Side. One of these townhouses, currently on the market for $21 million, includes reinforced walls of concrete (hidden beneath brick), a screening room and a basement banya with a swimming pool.
Mr. Rovt also sits on the NYC Board of Correction (no museums for him, thanks) and is a trustee of John Jay College of Criminal Justice. He's really into these hobbies—he happily gave a Ukrainian dignitary a tour of Rikers Island—so you know he's not just on the board of the correction for the prestige that comes with the position. Obviously, this also means that he is totally law-and-order and not involved in any shady Eastern European intrigue.
Plus, he thinks he's worth a little more than the $1.2 billion that Forbes estimated his vast fortunate at, but doesn't want to quibble. He really doesn't need the publicity. Of that vast fortune, he's planning to spend between $300 and $400 million more on New York real estate. Not that he'll be spending that on any apartments. He thinks Mr. Rybolovlev is an idiot.
"I would not pay $88 million for an apartment," he tells Businessweek. "For $88 million, I would buy a house."
kvelsey@observer.com