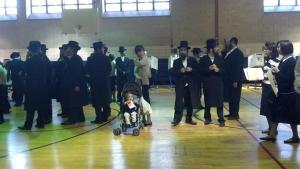 It's primary day in New York City! That means if you go to any polling site in the five boroughs, you're going to see bored workers and low turnout. That is, unless you are in Hasidic Williamsburg, where voters are turning out in throngs to decide who will represent them in an unpaid position in the Kings County Democratic Party. In that race, District Leader Lincoln Restler, a staunch critic of Brooklyn's scandal-tarred Democratic boss Vito Lopez, is trying to win re-election as the establishment moves to try and squash his political career in a battle Mr. Restler has dubbed "Vito's last stand."
We visited a heavily Hasidic polling site off Heyward Street, where indeed, long lines of Orthodox Jewish voters filled a school gymnasium, the atmosphere buzzing with activity. A couple dozen yards outside the entrance, signs in Yiddish urged locals to vote for Mr. Restler or his opponent, community board chairman Chris Olechowski, and young volunteers for Mr. Olechowski sat in a booth, routinely shouting, "Vote!"
Despite Mr. Lopez's woes stemming from serious sexual harassment claims, found credible by the State Assembly, members of the the local Jewish community argue the election is a way to demonstrate their electoral strength for the 2013 elections, where New York City will be electing its next mayor and other top government positions.
"The number of votes for Chris Olechowski in our neighborhood will clearly show the following and support that UJO and Satmar (zalis) have in Williamsburg," an pro-Olechowski email circulating around the neighborhood declared. "Right or wrong, this is precisely how the political world and the media will analyze it and this will form the basis as to how the new democratic party of Brooklyn will form their alliances and loyalty and this election turnout will guide the 2013 Citywide candidates in their quest for Williamsburg support."
It added, "Its a consequential election with the results affecting political calculations for years to come…."
And turn out they did. A poll worker told Politicker that turnout was on par with the June 26th primary election where the two Satmar sects showed up en masse to vote for and against a Lopez-backed challenge to Congresswoman Nydia Velázquez. Because the larger sect supports Mr. Lopez's candidates, at least for now, Mr. Restler will need relatively strong turnout in the other parts of the district in order to have a chance at reelection.
Accordingly, Mr. Restler has parked himself outside of a senior center in Greenpoint for the entire 15 hour period that poll sites will be open today. Many of the passerby recognized Mr. Restler, who slipped in and out of Spanish–and, with a little more difficulty, Polish–to greet them and encourage them to take the time to vote.
"There is terrific energy and buzz in the neighborhood about the race, I think we have two hundred individuals who are volunteering for us today and I'm excited about our ability to turn out every independently-minded voter in the 50th Assembly District," he told us.
Of course, it's strange to see such passion and effort for a district leader's race, where both Mr. Restler and Mr. Olechowski have raised far more money and spent far more energy campaigning than one would typically see for such an election. We asked Mr. Restler if it ever dawned on him that despite the tension, he's still campaigning for a position most people aren't even aware of.
"People are aware of it here," he answered.