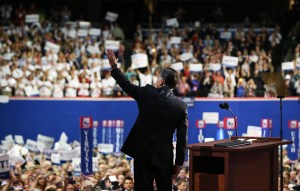 TAMPA, FL — It's fitting that one of the most enduring images of the 2012 Republican National Convention was Clint Eastwood's empty chair, since the main purpose of the confab was crowning Mitt Romney as the titular leader of the party, finally filling the seat of GOP power that has remained more or less vacant since John McCain was vanquished by President Barack Obama four years ago.
As the saying goes, when you play the game of thrones, you either win or you die. After his defeat in 2008, Mr. McCain didn't even bother joining the primary combatants vying to lead the elephant herd into battle against President Obama in this year's race. His second, Sarah Palin, didn't have a place in the primaries or at the convention in Tampa. Instead, she was banished to her Facebook page, where she railed against her overlords at Fox News for canceling all of her scheduled appearances, in which she'd hoped to take to the airwaves in praise of Mr. McCain on the night of his RNC cameo.
Like any coronation, last week's convention was supposed to be a time for Mr. Romney's fellow Republicans to rally around him and march into combat by his side. However, the ascent of the House of Romney was accomplished without the blessing of the conservative and libertarian factions of the party. As a result, Tampa became a theater for the sorts of behind-the-scenes drama, intrigue and power plays that so often accompany these matters of dynastic succession. Though ostensibly acting as standard bearers for Mr. Romney, the other lords of the GOP seemed to be more interested in plotting their own ascendancies four years from now than in following Mitt into battle against President Obama.
Mr. Romney's erstwhile primary rival, Rick Santorum, took the stage Tuesday night to deliver a speech that movingly detailed his own family history while pausing to mention the nominee by name just three times. The following night, when Mr. Romney's running mate, Paul Ryan, addressed the convention, Mr. Santorum didn't even show up. Rather, he could be found in the CNN Grill, a makeshift restaurant set up by the cable news network outside the RNC proceedings, where he dined with his family and top aides.
And then there was New Jersey Governor Chris Christie's keynote address. Mr. Christie reportedly declined an offer to serve as Mr. Romney's running mate because fundraising rules would have forced him to relinquish his governorship in order to maximize potential presidential campaign contributions—and because he doubted Mr. Romney's chances in November.
On Wednesday, Kentucky Senator Rand Paul, son of Texas Congressman Ron Paul, another former rival of Mr. Romney's, offered some remarks before the RNC attendees in which he invoked Mr. Romney's name just once. The inclusion of the younger Mr. Paul, and a tribute video hailing his father, were reportedly efforts to placate their fervent supporters, the Paulites. No such luck. Despite these displays of graciousness, the Paulites repeatedly disrupted Mr. Romney's coronation by staging dramatic walkouts and regularly shouting for both Paul the father and Paul the son during the festivities.
On the final night of the convention, Florida Senator Marco Rubio introduced Mr. Romney. He dutifully named the candidate six times, however, Mr. Rubio's rousing speech left many observers wondering why he'd been passed over for the veep spot and where he'll be four years from now. (Several commentators compared his prime-time address to Mr. Obama's star turn during the 2004 DNC.) Mr. Rubio possesses three things Mr. Romney lacks: relative youth, a gift for public speaking and the admiration of the Republicans' Tea Party faction. This trio of political advantages may have made it impossible for Mr. Rubio not to upstage the man he was meant to introduce and, indeed, from the convention floor it seemed his speech engendered a far more electric response from the crowd than Mr. Romney's.
Even Mr. Ryan, the most important member of Mr. Romney's court, didn't focus his convention address entirely on the campaign message. Mr. Romney has disavowed the budget proposal that had become Mr. Ryan's signature in Washington and was initially adopted by his fellow Republican lawmakers, but there was the vice presidential candidate on stage casting a discordant note by touting the "good-faith reforms and solutions equal to the problems" that he and the congressional Republicans proposed for the budget.
What the speeches largely had in common was that they promised an election victory and a subsequent renaissance for the American kingdom following the dark ages of the financial crisis. These optimistic orations were offered within a fortress of metal gates and concrete barriers guarded by a massive contingent of police officers, Secret Service agents and National Guardsmen. Utah Senator Orrin Hatch, who has served in the halls of government since 1977, told The Observer the security surrounding the convention "event zone" was unprecedented.
"I've been to ten of these, I've never had as much trouble getting around as I have here," the old lawmaker said. "It's a different world right now. Terrorism and all these other things are scaring everybody to death."
Indeed, outside the fortified ramparts of the convention, many of the forces threatening the Republican Party were amassed—shouting, chanting and otherwise calling for Mr. Romney's head on a pike. The delegates and other RNC attendees run a gauntlet of these fearsome creatures, including disgruntled Paulites, Occupiers and religious zealots. One group we saw was led by a fiery preacher named Ruben Israel, who brandished a pair of the sacred temple garments worn by members of the Mormon Church.
"This is the holy underwear that Mitt Romney wears," Mr. Israel shouted through his megaphone. "You going to vote for a guy that puts this stuff on? You going to think that God is going to honor this?"
Though small groups of demonstrators managed to infiltrate the Forum and briefly interrupt the speeches made by both Mr. Romney and Mr. Ryan, they failed to halt the proceedings. However, they were a troubling indicator that, whomever wins the election in November, winter may be coming for the Republican Party as internal discord on the right wing mounts. Could it be that some of those who are supposed to rallying behind the nominee believe they could do a better job fending off the impending threats to the party than the current candidate? Whether due to such calculations or to cold ambition, there was a palpable sense in Tampa that many of the high-profile leaders assembled for the convention were more concerned with their positioning for 2016 than they were with Mr. Romney's race.
In spite of this potentially toxic cloud of competing interests and aspirations swirling around Mr. Romney's coronation, the ceremony was not without its revelries and feasting. On the convention floor, the attendees seemed unaware of any discord and cheered each time a speaker uttered the party's newly-minted credo, "We Built That!" After each day's convention activities concluded, hordes of delegates, elected officials and their chroniclers, the political press corps, mingled and imbibed at a series of invite-only parties scattered across Tampa.
Along with these fetes for the standard convention crowd, there was also a parallel convention of sorts for the elite megarich donors who have been fueling those conservative super PACs, complete with private parties, concerts and an exclusive event on board a yacht during which backers schmoozed with Mr. Romney's close relatives. One set of events aimed at women took place in a pavilion temporarily named for Dr. Miriam Adelson, the wife of Las Vegas casino magnate Sheldon Adelson, who has pledged to give over $70 million to Republican groups in this election cycle.
In this election, President Obama has raised about eighty percent more in traditional campaign contributions for his war chest than Mr. Romney has. This cash imbalance means the Republicans' dream of seeing their party's rulers retake the White House is entirely reliant  on the largesse of extremely wealthy individual super PAC donors. With the GOP's presidential prospects dependent on these moneyed moguls, those who took the stage at the convention itself could be seen as merely pawns with the real kings of the party operating behind the scenes.
On the floor on Thursday, the final night of the convention, we spoke with one of the most controversial conservative kingmakers, David Koch, who along with his brother, Charles, owns what is reportedly America's second largest privately held company and has pumped an estimated $400 million into this election. Mr. Koch, who was attending as a member of the New York State delegation, dismissed criticism of the influence he and his fellow megadonors have begun to exercise on the nation's political process.
"We have a free society and people are free to do what they want, you know, as long as they don't hurt others and they obey the law," Mr. Koch said. "So, I believe in free speech and if people want to spend money in politics or something else, it's their right, nothing wrong with that. So, I endorse that."
Not long after, Mr. Romney made his way to the stage to deliver a speech that would be the convention's grand finale. As he waded through the crowd shaking hands, the candidate paused briefly by the New York delegation, clasped Mr. Koch's hand, grabbed his shoulder and exchanged a few pleasantries.
It's good to be the king. The question was just which man held the title.