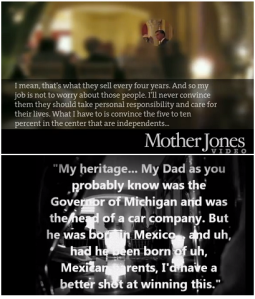 Videos recorded in the last month or so apparently caught Mitt Romney speaking perhaps a bit too frankly to a captive group of donors. The covertly-recorded videos, spotlighted by the liberal publication Mother Jones, reveal that the Republican nominee has a more controversial view of a significant percentage of the American electorate than has perhaps been heard from him before.
Mother Jones's David Corn didn't shy away from presenting the videos with a dash of cloak-and-dagger theatrics:

Mother Jones has obtained video of Romney at this intimate fundraiser—where he candidly discussed his campaign strategy and foreign policy ideas in stark terms he does not use in public—and has confirmed its authenticity. To protect the confidential source who provided the video, we have blurred some of the image, and we will not identify the date or location of the event, which occurred after Romney had clinched the Republican presidential nomination. Here is Romney expressing his disdain for Americans who back the president
The most controversial clip is below, and while Mr. Corn published several more excerpts from the former Massachusetts governor's talk to millionaire donors, this portion in particular may not bode well for Mr. Romney's already troubled campaign:
[youtube http://www.youtube.com/watch?v=XnB0NZzl5HA]
An especially contentious portion of Mr. Romney's statement comes when he says, "There are 47 percent of the people who will vote for the president no matter what. All right, there are 47 percent who are with him, who are dependent upon government, who believe that they are victims, who believe the government has a responsibility to care for them, who believe that they are entitled to health care, to food, to housing, to you-name-it."
A good indicator of the impact of these words: by Monday night both "David Corn" and the hashtag "#47Percent" were top trends on Twitter.
Mother Jones published quite a bit of Mr. Romney's talk about "the 47 percent," but short clips of text and video appear to have first been published on YouTube on August 27, by a user with the somewhat obvious handle, "Anne Onymous." They seem to have been taken from the same perspective as the Mother Jones videos. The following is a smaller clip of Mr. Romney's statement about "47 percent" of the voting public:
[youtube http://www.youtube.com/watch?v=HsyMUxouLP0]
"Anne Onymous" uploaded 10 videos in the last three weeks. Based on the upload dates and visual cues in the portions of the videos where Mr. Romney can be seen speaking at a podium across the room, they all seem to have been made at the same dinner, which occurred, according to Mother Jones, "after Romney had clinched the Republican presidential nomination."
Is "Anne Onymous" the source for Mother Jones's potentially damning exposé? Probably–a Google+ account linked to the YouTube profile led to Twitter, and @AnneOnymous670's very first tweet, directed at David Corn:
@davidcorndc More leaked Mitt Romney fundraiser video. He admits buying sweatshop. More to come. Foreign policy, etc. youtube.com/playlist?list=…

— @AnneOnymous670 (@AnneOnymous670) August 28, 2012
Given that Anne Onymous has steadfastly maintained anonymity all along via the play on words in their screen name, knowing that they are the source Mr. Corn has worked carefully to protect may be moot. A more interesting question: was "Anne Onymous" chosen as a clever yet obvious pseudonym, or is the screen name a nod to Anonymous, the controversial hacktivist collective?
Whoever they are, they were determined from the first tweet to David Corn on August 28 to get this story out–nearly every tweet posted by @AnneOnymous670 since then has been devoted to asking various politicos and publications to look at their videos.
With Mother Jones promising further revelations to come, it looks like that mission has been accomplished.