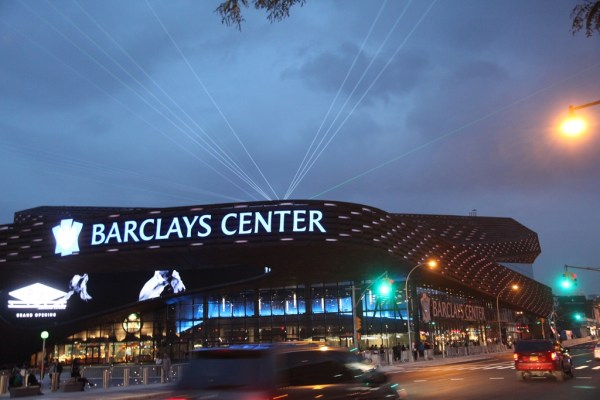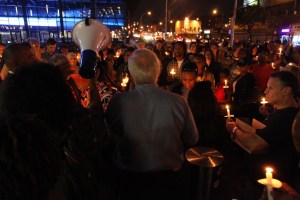 Last night two very different events marked the grand opening of the Barclays Arena in Brooklyn.
Inside it was the beginning for Jay-Z's newest 40/40 club location, with a party full of the glam and circumstance one would expect, drawing celebrity notables like Rihanna, J. Cole, ?uestlove, Adrienne Bailon, Tyson Beckford, and Lyor Cohen. Jigga man himself told MTV, "A guy stopped me in the hallway and said, 'Man this is a great thing for New York City.' And that's what the whole thing was about."
Outside, The Observer could count about a 150 people gathered who seemed to disagree. They had come from the ever-varied and ever-vocal community organizations that have been attacking this project since it showed up on their doorstep, a flurry of rage and acronyms: Brooklyn Speaks, the Brown Community Development Corporation, Develop Don't Destroy Brooklyn (DDDB), Families United for Racial and Economic Equality (FUREE), and the Fifth Avenue Committee (FAC), along with chapters of the Occupy Wall Street movement.
They came for a candlelight vigil to mark an end not to their cause, no, but to this chapter of the fight. Though whether turning the page to reveal a new chapter, or the epilogue, remains to be seen.
"We are here to remember" said Rev. David Dyson of the Lafayette Avenue Presbyterian Church, "and pray for the families that have lost their homes. For the families that still are in need of homes, in need of good paying jobs and a city in need of accountable development…We're here because this cannot be the model for development in this city. Back door deals. Using the state to seize peoples homes. Forking over millions in tax payer dollars for a private development and putting our communities at further risk."
Under the Barclays Center's impressive looking oculus, a giant rusted hoop jutting out over the arena's wide plaza and backlit by the neon glow of corporate sponsorship and advertising, the opposition took its turn to fire back at the project, starting with the bank itself. "This arena has been centuries in the making," said Rev. Clinton Miller of Brown Memorial Baptist Church and the Committee for Arena Justice, "we recognize that Barclays was the same bank that financed the Holocaust. Barclays was the same bank that financed apartheid in South Africa. The same Barclays that financed the trans-Atlantic slave trade. This arena has to be prayed over. This space has to be consecrated. Promises have been made. Promises have not been kept. We pray for peace in this space. And we pray that one day brooklyn can be united again."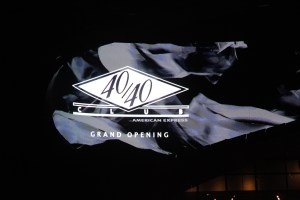 The arena, at once the public excuse for and most anticipated part of the Atlantic Yards project, was always a small part of the overall development. It is the next phase of 14 proposed residential towers, two of which will crown the south end of the Arena itself, that is the oppositions real, or at least its remaining, source of concern.
"I just want to make it clear that this press conference and all of our activites this week is not about sour grapes about the arena," said Candace Carpenter, DDDB's legal director and spokeswoman, "It's built. We understand that. We will live with that and people will enjoy it to the best they can…But we are talking about what we were promised. We are talking about the entire area behind this arena that is now laying fallow, which belongs to Forest City Ratner for as long as he wants."
In other words, candles or not, the opposition is going nowhere fast. As Lumi Michelle Rolley of nolandgrab.org said, "If you can make it harder for another developer or politician to dream up a scheme like this. It's worth it."
With this in mind it is the promises that have been made during this projects long history that the various groups are watching closely. Because Forest City Ratner is often a slippery opponent to tie down. Consider the 10,000 jobs, which were meant to materialize from this development. A promise which was printed on PR fliers delivered to local area residents and on promotional materials released in December 2003. Materials that listed return mail addresses for Atlantic Yards, 1 Metrotech Center, Brooklyn, (a Forest City Ratner-owned development) the home of Atlantic Yards Development Company, LLC, a Forest City Ratner-affiliated company, and Geto & de Milly, Inc, a lobbying and PR firm listed in the employ of Atlantic Yards Development Company, LLC. It's within this kind of climate of obfuscation that the opponent community organizations have committed to working.
Likewise the promise of low and moderate income housing has also been an elusive goal. "After delaying construction of the project's first residential building for two years, Forest City is now taking advantage of scarce government affordable housing subsidies to primarily build studio and one-bedroom apartments for more affluent tenants," quoted Michelle de la Uz, Executive Director of the Fifth Avenue Committee, within the press release. "It's not what Brooklyn was promised and certainly does not meet the critical need for housing affordable to Brooklyn's working class families."
In one case, at least, the opponents do have the courts on their side. A State Supreme Court ordered supplemental environmental impact statement, which followed on the heels of Forest City amending their project timeline from 10 years to 25 years. An ordered remediation, which Forest City strongly opposed.
"What they proposed in their original EIS (environmental impact study)" said Gib Veconi of the Prospect Heights Neighborhood Development Council "was the most dense residential development in North America. It was more than two times as dense as the next one, which is in Harlem…It was so big that it was a license to build almost anything, without having to comply with new york city zoning and they could take as long as they wanted. It's unbelievable. It's probably the best real estate deal thats happened in New York City since Peter Minuit bought the island of Manhattan from the Lenape indians."
It was Rev. Miller who closed out the nights vigil, quoting Mark 8:36, "For what shall it profit a man, if he shall gain the whole world, and lose his own soul? We ask the question what does it profit a borough to gain this 1 billion dollar arena. So we pray that Brooklyn does not lose it's soul, lose it's character," adding, "For those of us who know better, this will always be Atlantic Avenue and Pacific Street."