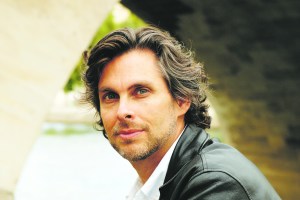 Michael Chabon has made himself a literary champion of commercial pleasures. His fiction in recent years has touched the same nerve as nostalgic pop favorites: detective novels, comic books, kung fu movies, soul music. And with Mr. Chabon's new novel, the retail romance Telegraph Avenue (Harper, 480 pp., $27.99), this principle reaches a certain literal endpoint. Not just old-fashioned commercial entertainment but old-fashioned commerce itself—the scrappy, cozy, locally owned sort—becomes the object of his underdog affection.
Archy Stallings and Nat Jaffe, the book's heroes, run a used record store in Berkeley called Brokeland, which offers "unlimited supplies of music and bullshit on tap." It's a den of colorful Telegraph Avenue idlers (one has a pet parrot; another, a lawyer nicknamed "Moby," represents whales) and the store's barely solvent owners have become the guardians of their own endangered species. "Brokeland Records was nearly the last of its kind," Mr. Chabon writes. "Ishi, Chingachgook, Martha the passenger pigeon." Gwen Shanks and Aviva Roth-Jaffe, wives to Archy and Nat, are also in business together: they "catch babies" as Berkeley Birth Partners. Aviva, we're told, is "the Alice Waters of midwives," which maybe makes Gwen a sous-chef with a nursing degree.
Telegraph Avenue transforms small-business ownership from a trusty American dream into a brand of idiosyncrasy by tucking it into what was once the bosom of '60s counterculture. Gwen, Archy, Aviva and Nat are kindred spirits to the kind of geeked-out fanatic that Mr. Chabon has written of—and written of being—elsewhere. They weather the same sorts of delights and indignities: fits of fervor over their chosen niches, marginalization by establishment naysayers. And at the same time, they endure the trials of early middle age. Gwen is pregnant and Archy, ambivalent, is cheating on her. Nat and Aviva are facing the first hints of rebellion from their "sweet freakazoid" of a 15-year-old son, Julie; and Julie is nursing a crush on Titus, Archy's illegitimate teenage son, whom Archy has never met. Archy's own father, meanwhile, is using blackmail and city politics in an effort to revive his blaxploitation glory days as Willie Strutter, movie martial artist.
The book's action is backdated to 2004, allowing for a little pre-recession nostalgia. Still, business isn't easy: both Brokeland and Berkeley Birth Partners may be doomed. The main villain in all this does not seem, technically, to be a completely bad guy. Gibson "G Bad" Goode is a former star quarterback and the fifth-richest black man in America. He has parlayed his wealth and fame into an entertainment empire, and he wants to open one of his Dogpile Thang megastores right down the street from Brokeland. "Megastore" sounds ominous—but Goode's Dogpile Thang is improbably high-minded and hard to hate. The proposed Thang will offer movies, books, and music with a focus on African-American culture; it will even sell used and rare vinyl. "The main idea of a Thang," we're told, "was not to make money but to restore, at a stroke, the commercial heart of a black neighborhood cut out during the glory days of freeway construction." So this is a fairly rosy world. (There's a Black Panther shooting, sure, but it seems surprisingly mundane and happens offstage.) If the stakes of his story do not always feel high, the author compensates by writing with prodigious energy.
Michael Chabon is a famous writer who hasn't published a novel in five years, which means this book is an event, and Telegraph Avenue does not take eventfulness lightly. At every turn, verbal firecrackers go off, plot twists pile up like pie after turkey dinner, minor characters bear histories stuffed full as Christmas stockings. It's a credit to Mr. Chabon that this mostly reads as exuberance rather than showboating, but either way, it gets exhausting. The reader ends up with the classic New Year's Eve problem: few things are as boring as setting out to have a bunch of fun.
Mr. Chabon's unstinting style gives the prose a kind of uniform chewiness. It forces the reader to proceed deliberately even when the story feels like it ought to be gulped down.  As the book reaches its climax, the teenage sons are on the run, their dads are in pursuit, the Oakland PD wants to talk to Nat, and Mr. Chabon describes an important phone call:
Little by little, Nat wound himself up, looping himself in yellow cord like a fork involving itself in a plate of spaghetti, Cleopatra sending herself to Caesar in a carpet. By the time his conversation with Archy was over and he went to hang up the phone, Nat had coiled himself all the way back to the kitchen and was as thoroughly tangled as Charlie Brown in a kite string.
The tangled imagery might be the point here, but this late in the game, 400 pages in, it's hard to be sure. Three separate metaphors feel like Mr. Chabon's standard equipment for describing a phone cord.
And his instinct for pleasing the reader occasionally crosses into excess. Barack Obama himself swoops in with an epiphany, a scene that reads uncomfortably like presidential fan fiction. Of course Obama is not yet a president (only a state senator) when he arrives to speak at the Kerry fundraiser where Nat and Archy's band is playing. "Now, I would ask you to dance," Obama tells a pregnant Gwen, "but I don't think my wife would be happy if it got back to her that I was observed dancing with a gorgeous sister in your condition." This is vaguely fun, but mostly it's mortifying. The payoff, the dramatic irony—you know that guy's gonna be president!—is cheap. Obama incarnates themes Mr. Chabon wants to explore: race, liberalism, dreams from one's father. But the way he deploys the now-president makes him distracting rather than evocative.
Perhaps his setting is too idyllic to allow Mr. Chabon to really sink his teeth into a topic like race, anyway. Much of the present-day Bay Area manages to be extreme mainly in its pleasantness: it offers the comprehensive lifestyle equivalent of 72-degree weather. "Brokeland" refers to the Berkeley-Oakland borderland the record store occupies, which serves as a reminder of the area's radical history and urban woes; Mr. Chabon has located a promising seam in Bay Area life, an opening tear into the soft world around him, where problems can feel like a thing of the past. In a different novel, this world's easy, complacent charm would be a clear target for satire. But apart from some gentle fun at the expense of the Birth Partners' clients, satire is not Mr. Chabon's goal. The book predominantly represents an affectionate portrait of the place where the author has lived for the last 15 years. He considers his somewhat goofy hometown with the same care he gives his somewhat goofy characters and their somewhat goofy interests.
But Mr. Chabon's feelings find a vessel in a crucial bit player, Mr. Nostalgia, proprietor of Mr. Nostalgia's Neighborhood and purveyor of non-sports cards (ALF, Growing Pains and—most importantly—"Masters of Kung Fu"). Mr. Nostalgia is a man after the author's heart when it comes to the melancholy pleasures of connoisseurship, and he offers what sounds like a modest half-apology for the book's superabundance of bric-a-brac.
"Though Mr. Nostalgia loved the things he sold, he had no illusion that they held any intrinsic value," Mr. Chabon writes. "They were worth only what you would pay for them; what small piece of everything you had ever lost that, you might come to believe, they would restore to you."
editorial@observer.com