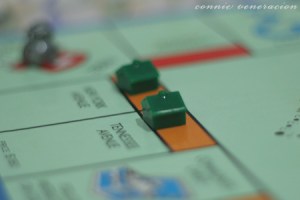 So The Journal announced its new Friday real estate section today. You can read all about it in the release below. What struck us though, was the name. "Mansion" it will be called.
We couldn't help but think it lacked a certain sophistication (say the people who brought you VelvetRoper.com), so herewith are some suggestions:
Penthouses
Oh Castle, My Castle
Third Homes and Gardens
Don't Dwell, Buy
Eight-Figure Estates
Bubbles Weekly
Finer Foundations
You're Still Not Ira Rennert
Money Boxes
Jealous?
WALL STREET JOURNAL TO LAUNCH WEEKLY SECTION
FOR RESIDENTIAL REAL ESTATE

Friday Journal Section to be Renamed; Showcase Expanded Arts & Culture, Sports

NEW YORK (Oct. 2, 2012) – The Wall Street Journal will debut a new weekly section covering the global luxury real estate market on Friday, Oct. 5. To serve a global audience, "Mansion" will appear as a stand-alone section in the Journal every Friday in the U.S., with select content appearing each week in the Journal's Europe and Asia editions. Relevant content will also be presented across WSJ.com's Chinese, Japanese and German-language editions.

Along with additional features and coverage on WSJ.com, all Mansion content will be available via the Journal's universal app for iPhone and iPad.

"The mantra for real estate has always been location, location, location – the location for the most intelligent, original, trustworthy and insightful journalism on prestige property is now The Wall Street Journal," said Robert Thomson, editor-in-chief of Dow Jones & Company and managing editor of The Wall Street Journal. "We all like to think of our home as a mansion, even if it is a humble abode, and we all have the license to aspire, so we have created Mansion to be the home of both aspiration and real estate realization."

GLOBAL COVERAGE FOR A GLOBAL MARKET
Mansion will offer in-depth stories from a global team of journalists, including property-focused coverage with industry statistics and a focus on high-end financing; luxuryreal estate topics from iconic buildings and renovations to investments associated with those projects; distinctive neighborhoods and properties around the world; unique views from select residences and more.

Buoyed by the Journal's existing staff of real estate reporters as well as a newly formed dedicated team for Mansion, led by editor Emily Gitter, recurring features include:

§  The Market: A data-driven look at a sector of the luxury market;

§  House Call: A notable person recounts a real estate adventure;

§  Private Properties: High-profile transactions and property news;

§  The Balance Sheet: A profile of a renovation project;

§  Who Lives Here: An in-depth profile of a building or iconic block, the notable people who live there, the history and recent noteworthy sales;

§  Inside Story: A profile of a prominent individual home;

§  Portfolio: A look inside the real estate portfolio of a well-known person;

§  Jumbo Jungle: How to finance a luxury home now;

§  The Trade: The business of buying and selling; real estate brokers on the rise; trends in marketing homes andmore;

§  Foreign Correspondent: A guide to buying homes overseas, with a look at the quirks of the particular localreal estate market.

WSJ.com will also unveil an enhanced experience on Friday at WSJ.com/RealEstate, the Journal's portal for property coverage. A dedicated page for Mansion will have all slideshows, including House of the Day, as well as videos and articles exploring the world of high-end homes. WSJ Live will also offer a daily segment focused on realestate as part of its Lunch Break show. In conjunction with launch, Wall Street Journal real estate reporter Lauren Schuker Blum will host a chat Friday at1:30 p.m. EST on WSJ.com to discuss how the luxury-home market is being redefined.

Complementing Mansion, The Journal will continue to cover real estate news and features in its national news pages, the Greater New York section as well as Personal Journal and WSJ. Magazine.

In addition to the launch of Mansion, the current Friday Journal section in the Journal's U.S. edition, which previously featured real estate coverage in addition to arts, will now focus on arts, culture and entertainment, showcasing the Journal's expanded coverage of these areas. Renamed "Arena," it will feature Pulitzer Prize-winning movie critic Joe Morgenstern, a leading team of television and theater critics, and the Journal's growing arts staff's reporting on movies, music, television, books, art, and new media. The Journal's sports coverage, currently part of Friday Journal, will also appear as part of Arena.

Mansion will be included with Arena as a single section in some U.S. markets.

ADVERTISERS TO REACH AFFLUENT, INFLUENTIAL AUDIENCE
A number of advertisers across multiple categories have recognized the opportunity Mansion presents to target the Journal's affluent and influential audience. Launch advertisers include Coldwell Banker; Extell Development Company; LandVest; Luxury Portfolio International; NetJets; New York Design Center; Prudential Douglas Elliman Real Estate; Related Companies; Sheldon Good & Company; Sotheby's International Realty Affiliates, LLC; Stribling Marketing Associates; and Sub-Zero and Wolf.

"We know our audience is already well-versed and interested in the high-end real estate market, and Mansion provides advertisers the opportunity to speak directly to that audience with a proven affinity for real estate and the subjects and trends surrounding it – from investment to renovation to design," said Michael Rooney, chief revenue officer, The Wall Street Journal.

"Today's consumers are demanding a single source for all the latest intelligence on the world's luxury real estate markets. The new section delivers this in a timely, consistent and trusted way, providing critical insights into the globe's most far-reaching markets," said Wendy Purvey, chief marketing officer, Sotheby's International Realty Affiliates LLC. "With the Sotheby's International Realty® network's expertise and global presence, The Wall Street Journal is an ideal outlet for educating buyers and sellers on the latest industry trends and showcasing the most extraordinary property available today."

"We arethrilled to support The Wall Street Journal's newest section and see it as an exciting way to share our brands' stories about food preservation and greatcooking results with new readers," said Michele Bedard, vice president of marketing for Sub-Zero and Wolf. "Our work with The Wall Street Journal has been integral to the engagement of readers and consumers that are as passionate about design and cooking as we are at Sub-Zero and Wolf and lookforward to the same with the addition of Mansion."