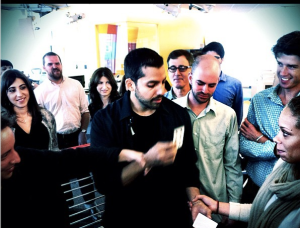 Illusionist David Blaine stopped by Newsweek/The Daily Beast for an appearance on BeastTV today. While in the company's West Chelsea office, Mr. Blaine couldn't resist demonstrating his powers to what we assume were wowed staffers.
Excited writers tweeted the events (with pictures). It isn't every day that magic happens in a newsroom. 
"I just held David Blaine's wrist for a trick and my hand was SO clammy …" tweeted reporter @ElizaShapiro.
"@aliyarrow just got served by @davidblaine. She was lost in his eyes.#aztektomb @ IAC," tweeted Deputy Books Editor Jimmy So.
Mr. Blaine is making the rounds to promote his latest stunt–he will stand on top of a 20-foot pillar for 72 hours and be electrified by a million votes of electricity. Mr. Blaine will not eat or sleep for the entire three-day period.
Based on the Beast staffers' awed responses to Mr. Blaine this afternoon, it sounds like the magician will have no trouble generating fawning coverage for the feat.