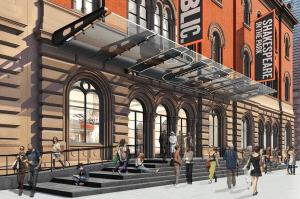 The Public Theater, Lower East Side's iconic Shakespearean play house, which emerged from its facelift on October 4, celebrated in a big way with a Block Party on Saturday, the first of an eight-week re-introduction "designed to engage the entire New York community." 
The Observer took full advantage of the free pizza-flavored popcorn, while admiring the $40 million revamp that, amongst other renovations, has seen the lobby transformed into a public piazza as well as a new lounge, The Library.
Artistic Director Oskar Eustis explained how founder Joe Papp "believed that the theater belonged to everyone, and this renovation of our home building is designed to create a lively, welcoming center for people to meet, gather and celebrate."
A foodie haven seemed to provide the perfect kick off to what we're sure the Public hopes will be a destination hang out. Families kicked back with truck-tastic foods from the likes of Go Burger, Korilla BBQ and Valducci's Pizza, and were treated to a sneak peek performance of Giant, Sybille Pearson and Michael John's La Chiusa's musical, and the world premiere of Here Lies Love by David Byrne and Fatboy Slim. Sasha Allen, of the Tony Award-winning Broadway revival HAIR, also made an appearance on stage.
No matter if you missed this one, with seven weeks worth of celebrations to come!