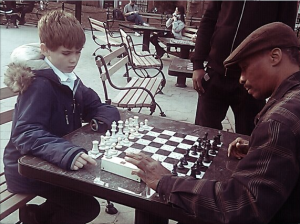 My 9-year-old son Jamie is obsessed with chess. I taught him a few basic moves at 5, and then he went on to chess club, summer camp and now, tournaments. All that formal training made him a competent player, but didn't teach him the strategy and anticipation so vital to winning. Those things he learned from a bunch of chess hustlers in Washington Square.
Jamie's residency in the West Village's scrappy chess scene began about a year ago, when he asked if he could play a game with the guys one day on our way home from school. He sat down gamely in front of Dwight, a soft-spoken man in a Seventh Day Adventist windbreaker. Dwight waited half way through the game before he started coaching Jamie. His two pieces of advice: don't move the queen out too early and keep control of the center. Jamie pocketed the advice, gave Dwight "a donation" and was immediately hooked. 
The next day, he wanted to play Dwight again. And the next. We returned to play with him several times, and over time Jamie moved on to play a few of the other regulars. Jamie began asking me for chess money the way some kids ask their parents for Mr. Softee funds: "Please can I play a game in the park?" It started as a roughly $5-a-day habit (one game is $3, two are $5), still a relatively inexpensive way to spend an afternoon.
He wasn't sitting in front of a computer or a television, and we could be outside together around fresh air and flowers, even if the air is sometimes heavy with smoke. I watched him leap into the game with the speed of the other players who tried to beat chess clocks, but his opponents tried to get him to slow down and get into the habit of seeing the whole board.
True sportsmanship came through in hushed tones from the elderly Mr. Peterson, who shows up everyday from the Bowery apartment he's called home for decades. He's a gentle and kind player, likely to ask Jamie questions about moves rather than scold him for wrong ones. Or, it cracked through the game like thunder from the incessantly loud, 6' 4" guy who's known simply as Cornbread. "Show me the square, Little Man! Show me the square!"
Jamie played Nashen, whose tutelage would grow louder if camera-toting gawkers passed through, and I realized that he was using my son to drum up more business. "Show me the other move, genius!" Nashen would shout. Or "That's not the square!" In what would become their last game, the yelling grew to an intensity that broke some invisible boundary of mutual respect. "I just wanted to play him," Jamie said, embarrassed.
Sometimes Jamie was a novelty, other times he was seen as a pest. One afternoon Jamie walked up to Rahim, whose intensity rises up through his wild hair, sun-damaged skin and black eyes. Rahim was mid-game with a collegiate looking frat dropout kind of guy who wore dark glasses and didn't crack a smile or look up, though the muttered and shifted around.
I tried to pull Jamie away, but Rahim kept instigating chit-chat with Jamie, calling him "The Kid" as he always did. The other player suddenly jumped from his seat and said, "Later man, I'll come back when you're not talking." Jamie took his place in the empty seat and straightened out the pieces to start a fresh game. But Rahim put on headphones, shook his head, and refused to play; he'd lost a customer. Jamie looked like he'd been slapped.
After four months of playing in the park, a spring semester chess club started up in his school, a local Catholic school. He could play circles around the other kids. He easily won the third grade trophy (and beat the chess club coach), but in his mind his biggest feat was beating Peter, a USCF-rated player in the 8th grade who'd been on the tournament circuit and getting private lessons for some time. With this victory, Jamie decided it was time to get serious. There were chess history and strategy books and a tournament-grade clock for a birthday present. He was no longer playing merely to learn, he wanted to win.
I briefly considered private lessons, but we both preferred the scene at the park. In a city that's been power washed by Michael Bloomberg, a little grit makes me feel at home. I moved here twenty years ago, and since then have watched my neighborhood, the East Village, gentrify beyond recognition from the neighborhood I used to knock around in long ago. In the chess circle, the ever-encroaching NYU neighborhood doesn't feel so scrubbed down of its natural history. There are always half-smoked cigarettes stubbed out and perched on the tables, ready to be lit up again in between games. The players curse up a shit storm, but despite that, I am intrigued by their stories.
Dee is a regular who spends as much time carving wooden bird sculptures as he does playing chess. He shared me a few of the creatures he'd carved from 500-year-old wood from the Hangman tree in Washington Square. I've paid him to play chess with Jamie, and his is a strong game woven with lessons. "If you move your knight to the center, you'll control more of the squares," or, "You have to set up your pieces and defend before you start to take."
Jamie's game got better—"I can see in his eyes that he hates losing," Rahim noted one day—and I was getting something out of our park visits as well. When the magazine where I'd spent a decade crumbled in 2008, gone too was the daily banter with colleagues. I turned to freelancing and teaching, a benefits-friendly formula that worked for my family. But even after four years, I occasionally missed the social fabric of an office, where people note your comings and goings and send jokey emails around the office. Never too intimate, but familiar enough.
And so it was at Washington Square Park. One day I met Dan, a backgammon player who likes to talk about the evils of white sugar, the miracle of juicing and the greed of doctors. Before I knew it, Dan was asking me if I know how many bowel movements a day I was supposed to have. (I did not.) A couple of weeks passed before I saw him again, and he had been carrying around some magazine articles that he'd been saving for me. I was genuinely touched that someone was carrying around clippings for me, even ones about bowel movements. I thanked him, and he walked back to his own table and promptly lit a cigarette.
One day, Rahim turned to Jamie and said. "Hey kid, watch my pieces. I'll be back in about an hour." Jamie nodded. "Remember, it's $3 for one game, $5 for two." Jamie took his place at Rahim's table, brimming over with a new kind of pride at being the Master of his own space.
A boyish guy from the pickle stand on Father Demo square came over to play, offering Jamie a dollar. (He refused.) Next was an older man who played out of nostalgia for the tournaments of his youth.
Suddenly it occurred to me that Jamie could set up his own table. I could stop paying the guys, and he could still play, only now his opponents would most often be NYU students and strangers passing through looking for a free game. I bought him the standard plastic pieces from the Chess Forum around the corner, and afterward we went to scope out a table. He set up his own pieces for the first time and waited. At first it was awkward; I sat across from him and watched him lean his forehead on the table, crack open a book and read, but if he was going to pick up a game he would have to sit up straight and try to engage potential players walking by. Before long, he had a taker.
I was relieved that Jamie's table didn't attract consternation from the other players, who by this time treated him like a little mascot. I'm glad, because when potential players come through I'm keenly aware of the level to which the guys have to compete with one another to get customers. Jamie might even be good for their business. Tourists with kids walk through and see a young kid set up at his own table, and they want their kids to play.
When time allows, Jamie sets up shop once or twice a week. He still picks up games with all of the regular players who wander over in boredom, or from the tourists, or from guys just knocking off of work who move through the circle, unwilling to "donate" to play. When people ask him if he wants a game, he'll lift up his head from a Goosebumps book and say yes.
They almost always want to know how old he is, and when he tells them he's nine, they say, "I thought you were 11 or 12." Some guys look embarrassed to play such a young kid, but when the pieces start flying, one game will turn into three or four.
Since we've begun going to the circle together, I've felt the space between Jamie and me widen. I don't sit next to him at his table anymore, and a natural maturing is kicking in as he adjusts to the fourth grade. He sits up straighter, and in between games he reads longer books with finer print. He tests out conversational small talk openers, as if he's maneuvering his way around a cocktail party, only he's The Kid, drinking chocolate milk and asking the guy across from him who his favorite chess champion is.
Every blue moon, he'll still play Dwight. "Wow, I can see you've improved," Dwight will say. Jamie hasn't beaten him yet, but he's gotten a couple of draws. "You need to slow down," Dwight will add. Jamie tries, but I'm not sure he can.